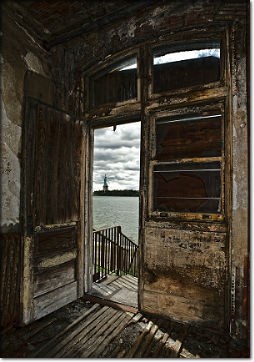 The Stilled Passage: A Photographic Journey through Ellis Island's Un-Restored Buildings
October 2017 - January 7, 2018
Third Floor Exhibition Gallery, Ellis Island
This exhibition of 66 color photographs by photographer Philip Calabria, is intended to introduce the museum visitor to the beauty, mystery and evocative scenes that reside within the unrestored buildings of Ellis Island. These buildings were once home to the island's hospital, contagious disease and isolation wards, nurses' quarters, doctors' residences, and laundry facilities and other support functions.
Using both artificial and natural light, the photographs capture the varying surfaces inside the buildings that mark time, weather and the presence of the many lives that passed through them. The goal of the exhibit is to engage visitors in the metaphor, drama and emotional richness of these spaces and enable them to leave with a greater understanding and appreciation of Ellis Island beyond the public areas.
The exhibit is organized by Philip Calabria, Photographer.
About Ellis Island
Opened on January 1, 1892, Ellis Island became the nation's premier federal immigration station. In operation until 1954, the station processed over 12 million immigrant steamship passengers. The main building was restored after 30 years of abandonment and opened as a museum on September 10, 1990.