Statue of Liberty Virtual Tour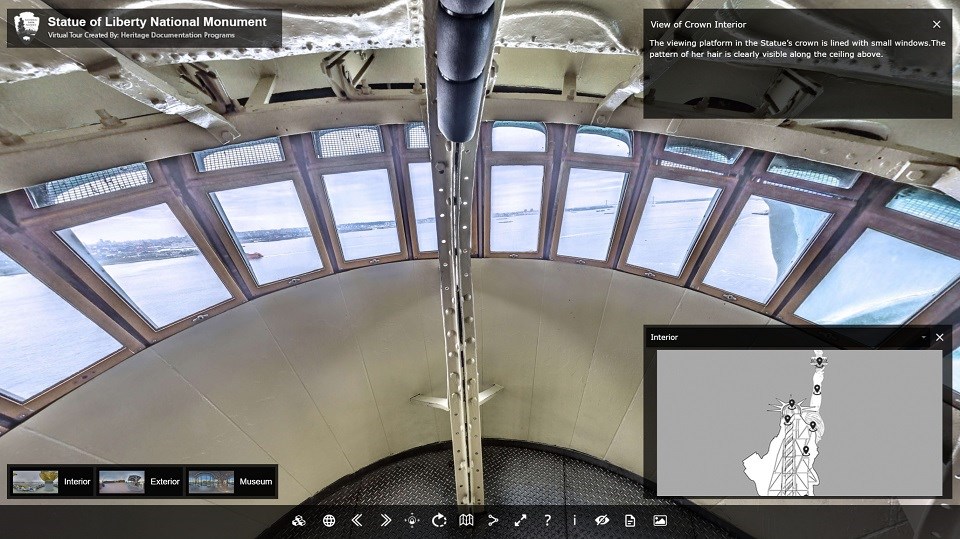 About the Statue of Liberty Virtual Tour
This interactive virtual tour is a combination of high-resolution spherical images, historical information, and historic images taken in the same areas decades ago. This virtual tour was created by the Heritage Documentation Programs, part of the National Park Service. For best results, please view these pages using a modern web browser. Some legacy browsers will not display some features.
About the Heritage Documentation Programs
The Heritage Documentation Programs (HDP) administers the Historic American Buildings Survey (HABS), the Federal Government's oldest preservation program, and its companion programs: the Historic American Engineering Record (HAER) and the Historic American Landscapes Survey (HALS). HDP conducts a nationwide documentation program in partnership with state and local governments, private industry, preservation groups, and federal agencies.

Documentation produced through these programs constitutes the nation's largest archive of historical architectural, engineering and landscape documentation. Records on nearly 40,000 historic sites, consisting of large-format, black and white photographs, measured drawings, and written historical reports, are maintained in a special collection at the Library of Congress, available to the public copy-right free in both hard copy (in the Library of Congress) and electronic (via the Web) formats.

Documentation also enters the Collection through mitigation activities as per the National Historic Preservation Act of 1966 and through competitions and donations. These records provide a permanent record of the nation's most important historic sites, contributes to wider recognition and appreciation of historic resources, provides baseline documentation for rehabilitation and restoration, and makes available materials for interpretation and illustration.
Last updated: October 14, 2022