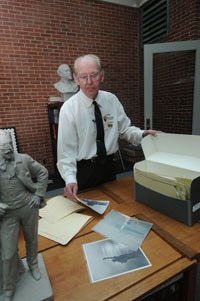 Access to the Library
The Library, located on the third floor west wing of the Ellis Island Immigration Museum, is open Monday through Friday (except for Federal Holidays) from 9:30 am to 3:00 pm.
The Library is open to the public, but researchers are advised to make appointments in advance and are required to sign a registration form acknowledging certain research regulations.
Please note that no original immigration records are located in the Library.
All research and duplication requests should be made in advance by contacting our staff by e-mail, by telephone at 646-356-2160 or by mail at:

The Bob Hope Memorial Library
Statue of Liberty National Monument/Ellis Island Museum of Immigration
New York, New York 10004
The oral history collection is available during regular library hours in the Oral History Listening Room, part of the library complex. These interviews are in a searchable database in the computer stations in this room.
On- screen instructions at each station assist the user in locating the desired interview. These computers contain oral history interviews only and do not contain such other immigration records as ship manifests, passports and citizenship records.
Duplication Services
The Library staff does provide copies of various library and oral history materials for research use and potential publication within the bounds of copyright restrictions. Most government publications and the oral history interviews are in the public domain and are not restricted by copyright. Duplication fees are charged for the copies, both print and digital format. Please contact the Library staff for duplication requests and information on service fees.