New Visitor Security Screening Facility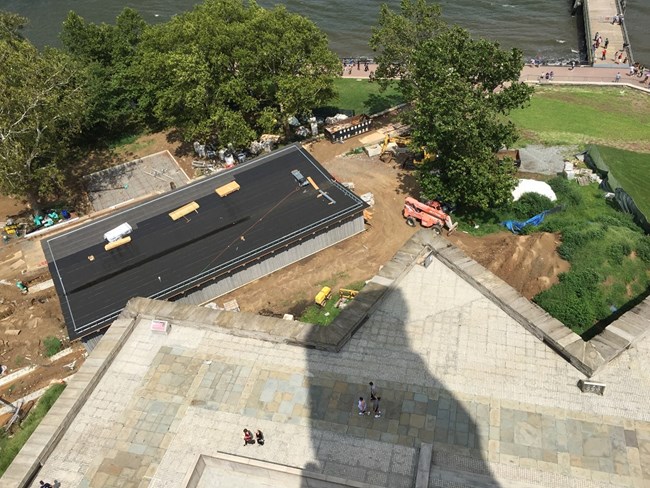 What's Happening?
We are constructing a new building where visitors will pass through security screening before entering the Statue of Liberty. The project will also create an area with lockers for visitors to store large personal items that are not permitted inside the monument. This new facility will replace the functions of the existing tent structure that sits on Liberty Island's Main Mall, directly in front of the entrance to Lady Liberty. After the new building is completed, the tent will be removed.
Why Are We Doing This Project?
The existing tent screening facility is difficult to maintain and requires frequent repairs. Hurricane Sandy severely damaged the structure in 2012. The new building is designed to be much more resilient to weather. Its solid walls and modern equipment will enhance the sustainability of the operation and improve occupant comfort.
The new building will also increase the efficiency of visitor screening. It is a purpose-built facility, designed with security in mind, and will cut down on congestion and long lines that have been issues with the existing tent. The location of the future building, off of the island's pedestrian pathways, will make it easy for our visitors to walk freely throughout the island without obstructions.
Lastly, the existing tent sits right in the middle of the Main Mall, where many visitors first approach the Statue of Liberty. The new building will nestle discreetly up against the base of the monument, allowing for unimpeded views of our Lady Liberty as you walk up to her.
How Will This Impact Your Visit?
While we are building the new screening facility, there will be noise and construction activity in the area of the New York Lawn and adjacent pathways. The East Wing Walk will be closed from the Main Mall down to the Perimeter Walk for the duration of the work.
When Will This Happen?
Work is already underway on the new building. Completion of the project is currently scheduled for late 2018.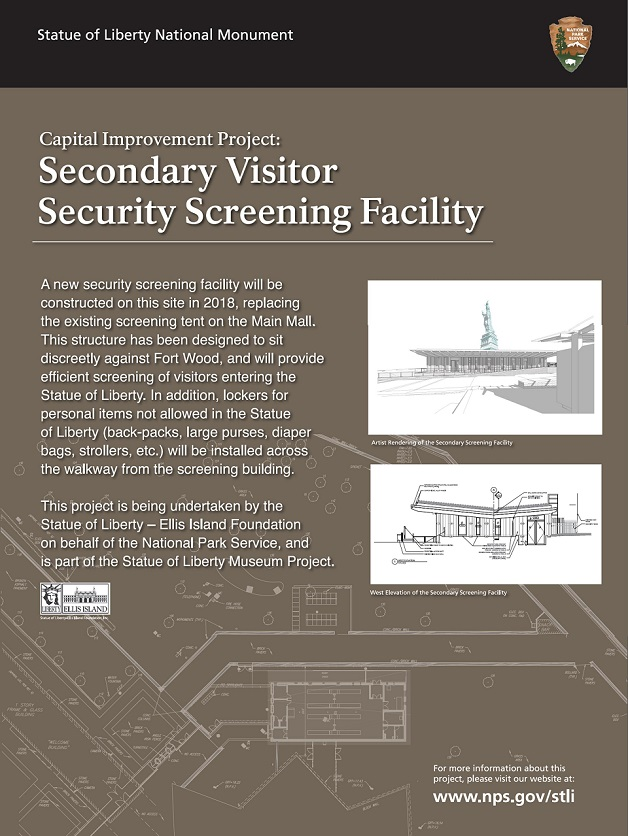 Last updated: August 23, 2018