Rehabilitating the Walls of Fort Wood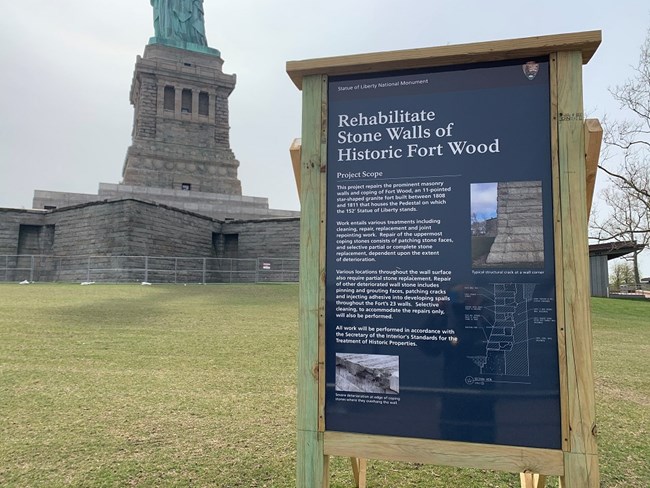 What's happening?
We are rehabilitating 35,000 square feet of granite on the walls of Fort Wood. This project includes minor cleaning; masonry repairs such as fixing cracks, patching, and resetting blocks; and installing new mortar in the joints between blocks. In some places, the stone is in such bad condition that the blocks may need to be replaced altogether.
Why are we doing this project?
Fort Wood is an eleven-pointed, star-shaped fort built between 1808 and 1811 as part of New York's harbor defense system. The Statue of Liberty's pedestal was built within this Fort Wood on Bedloe's (now Liberty) Island. Being over 200 years old, the fort has needed periodic maintenance as it has weathered storms and seawater. This project is the latest example of that maintenance.
Crumbling and missing mortar throughout the granite façade is the most concerning issue needing treatment today. The mortar's poor condition allows rainwater to leak inside the fort and causes the granite to deteriorate at a rapid rate. Another important issue that needs addressing, is the poor condition of some of the stone. On the top of the fort's walls sit large, heavy blocks called coping stones. The coping stones were fabricated not from granite, but from a low quality marble and have experienced significant deterioration. Many of these coping stones will be replaced through this project.
The park's historical resource specialists are working with architects, engineers, and masonry conservators to make sure these repairs are in keeping with the fort's character and appearance. While Fort Wood is overall in good condition, this project will ensure the structure stands strong.
How will this project impact your visit?
Liberty Island will remain open during the rehabilitation effort, but because the project takes place at the base of the Statue of Liberty, there will likely be no avoiding the noise and visual intrusion of construction activity during your visit. You will see large equipment around Fort Wood and you may hear saws and other equipment operating. As work progresses, temporary closures of walkways and gathering areas may be put in place to ensure everyone's safety.
We understand that this project may impact your experience at the Statue of Liberty. We are tasked with caring for all elements on the island, from the grass to the Statue itself, and carrying out this project is one aspect of that responsibility. Our goal is to preserve Fort Wood the best we can so that future generations may enjoy this impressive and important structure.
When will this happen?
Rehabilitation is underway now. The project is scheduled to conclude in the fall of 2022.
Last updated: May 15, 2021