The 1903 SPRINGFIELD Rifle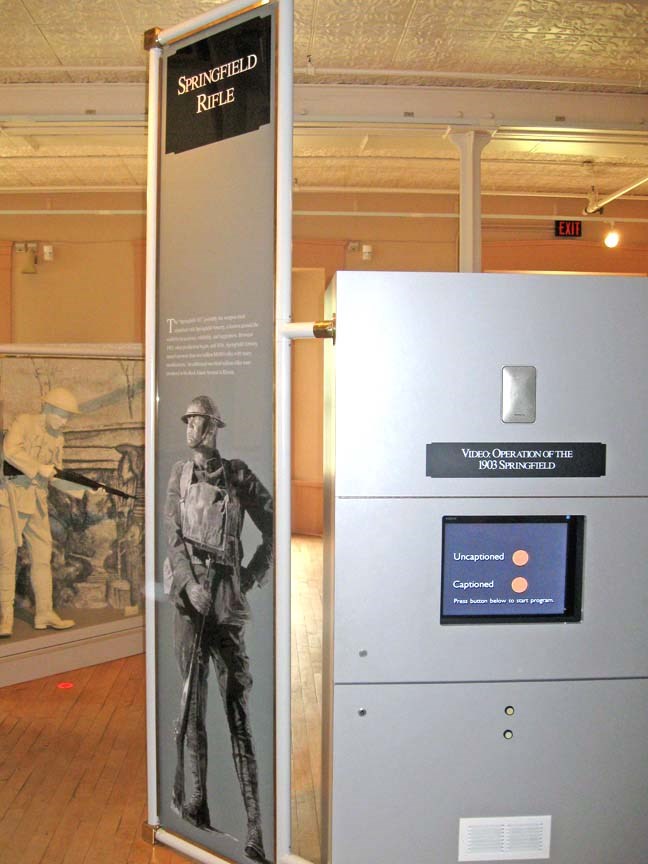 The "Springfield '03," probably the weapon most identified with Springfield Armory, is known around the world for its accuracy, reliability, and ruggedness. Between 1903, when production began, and 1936, Springfield Armory turned out more than one million M1903 rifles with many modifications. An additional one-third million rifles were produced at the Rock Island Arsenal in Illinois.
VIDEO - Operation of the Springfield US Model 1903 Rifle
_________________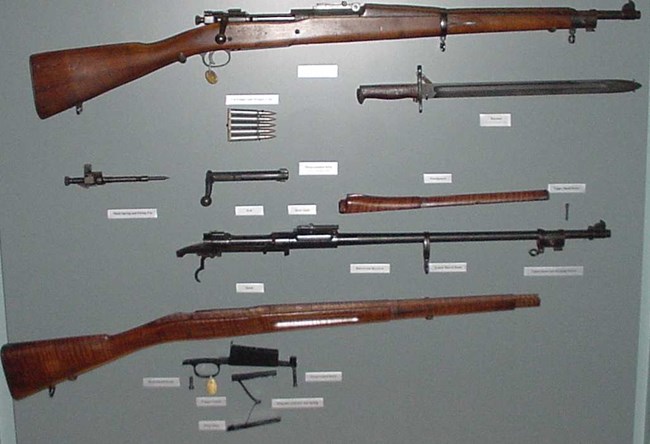 This case displays a disassembled Model 1903 Rifle.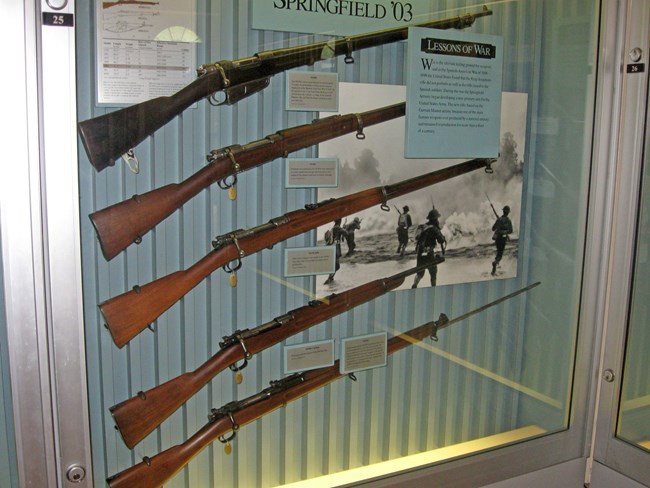 Springfield '03
Lessons of War War is the ultimate testing ground for weapons, and in the Spanish-American War of 1898-1899 the United States found that the Krag-Jorgensen rifle did not perform as well as the rifle issued to the Spanish soldiers. During the war the Springfield Armory began developing a new primary arm for the United States Army. The new rifle, based on the German Mauser action, became one of the most famous weapons ever produced by a national armory and remained in production for more than a third of a century.
M1900 SPAR6133 The M1900 was an experimental model designed to match the performance of European weapons employed in the Spanish-American War of 1898. In the proof of war it was found that the Krag round did not have the velocity or range of the Spanish Mauser rifles and that the Krag's loading system was deficient.
M1901 SPAR6134 Problems encountered in the M1900 were answered in a new model that incorporated an action very similar to the Mauser and used a rimless cartridge. [See the October 30, 1901 newspaper article describing this rifle.]
M1902 SPAR6150 Only minor changes were made in the M1901 to produce the version that was approved for production.
M1902 Carbine SPAR6140 Prototype carbine version of the M1902 rifle.
M1903 SPAR6168 Experiments with the M1902 determined that, with some modifications, a 24 inch barrel on the rifle was as effective as the 30 inch barrel. The shorter barrel would allow the same weapon to be used by both infantry and cavalry, removing the necessity of producing two versions of the same weapon. The Model 1903 incorporated this change.
************
Last updated: February 26, 2015