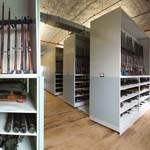 Springfield Armory National Historic Site houses one of the world's largest firearms collections, as well as some documents, photographs and maps related to Springfield Armory.
If you are interested in research at Springfield Armory NHS, please do the following:
Explore collections online. The links can be found here.
Contact the Chief of Resource Management to discuss your project.