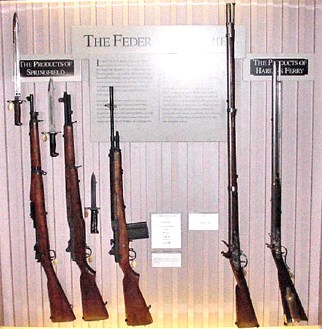 In April 1794, the Congress of the United States appropriated $81,865 "for the erecting and repairing of Arsenals and Magazines," an act that created the Federal Armories at Springfield, Massachusetts, and Harpers Ferry, Virginia. Although both establishments were to produce weapons for the United States Army, it is apparent by comparing the products of the two factories that there were important differences in their weapons.
Springfield Armory had a number of advantages. It lay in the midst of the Connecticut River Valley, an American center of arms manufacturing and inventiveness, and its early superintendents, especially Col. Roswell Lee, had frequent contact with many nearby inventors like Eli Whitney. As a consequence, very early on Springfield Armory came to use machinery to ease production and standardize parts of the weapons it produced. On the other hand Harpers Ferry was somewhat isolated, and was slow to change from the hand craft methods with which it had begun arms production.
The results can be seen in the products. Harpers Ferry's weapons, such as the M1803 and the M1819 breechloaders, were both early production rifles and show ingenuity of design. They have also been called "prettier" because of the greater use of brass and higher level of hand craftsmanship in their manufacture. Springfield's arms, however, exhibit the characteristics of machine made products: standardization in shape and uniformity of parts.
~~~~~~~~~~