Arms Collecting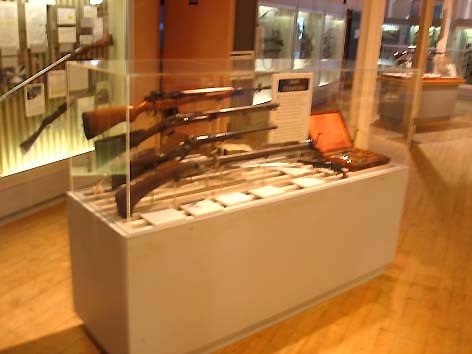 For centuries individuals have collected weapons: firearms, swords and bayonets, military accoutrements, and even cartridges. Today, it is a hobby, interest, or vocation that fascinates thousands of persons. Each has his or her own reasons for collecting – historical associations, rarity, the excitement of testing one's marksmanship with reproduction weapons, or as investments.
Many factors go into determining the value of such a piece: its authenticity, rarity, condition, and demand or popularity. Each of the weapons displayed here has a value for different kinds of collectors. Some are not genuine and are included as a representation of the types of fakes that the unwary collector may encounter.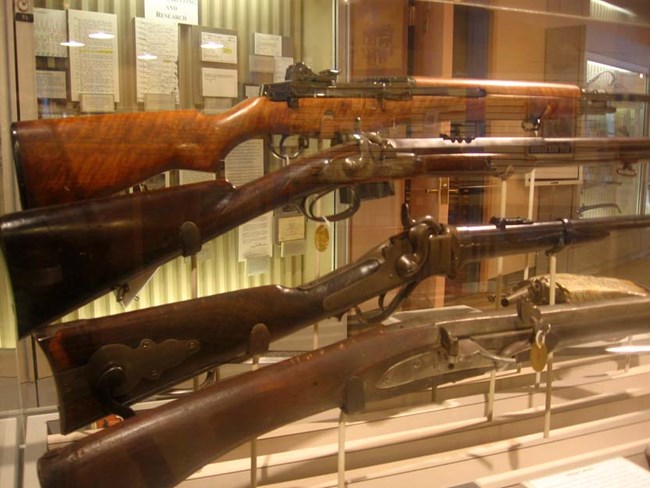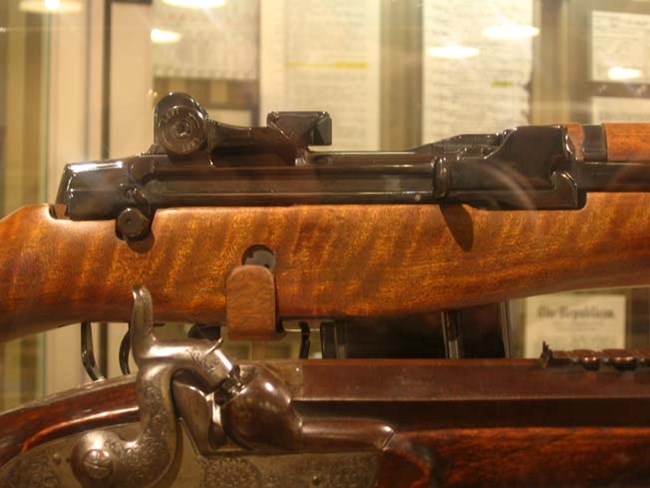 Eisenhower M14 Cat.# SPAR 1508
The Army customarily gave each new United States President a special rifle made at Springfield Armory. Before presentation these pieces were given a detailed examination which often revealed flaws. Consequently, when the Armory was requested to build a presentation M14 for President Eisenhower, it was decided to make two rifles. The first was found to be flawed. Examination of the second M14, however, revealed no flaws and it was selected to be presented to the chief executive. M14 serial D.D.E. #1 is displayed here. The rifle given to President Dwight D. Eisenhower was D.D.E. #2.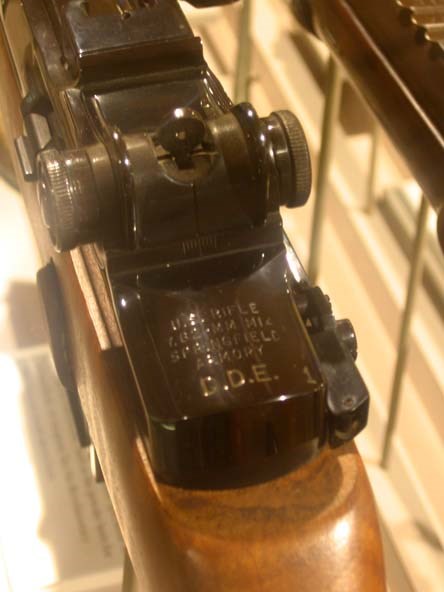 Close-up of the rifle's receiver marked "D.D.E. 1"
(Dwight David Eisenhower)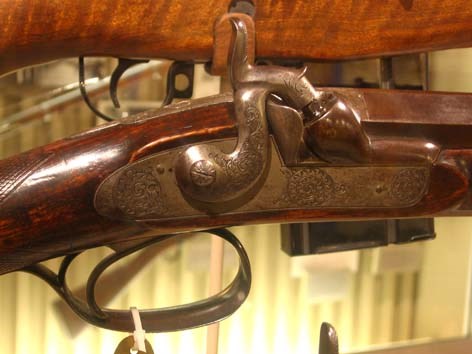 Jefferson Davis Rifle Cat.# SPAR 5570
Confederate President Jefferson Davis, an officer in the Mexican War and former U.S. Secretary of War, showed a keen interest in small arms. When Davis was captured after fleeing the fallen capital at Richmond, Virginia, he had in his possession the gun displayed here. An experimental model of French manufacture, it was designed to fire explosive projectiles similar to the artillery projectiles that had come into use in the 1850s. However acceptable in artillery, explosive small arms projectiles were considered unethical, which perhaps explains a contemporary report that Davis was captured with an 'infernal machine' in his possession.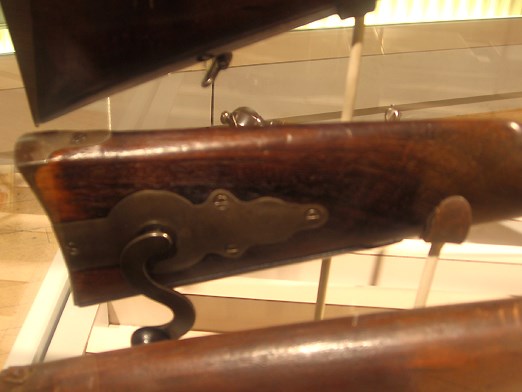 Sharps Carbine Cat.# SPAR 1241
During the Civil War a plan was devised to provide one man in each unit with a 'coffee grinder' which would be inserted into the stock of a rifle musket or carbine. Very few weapons were actually so modified. There are probably more weapons with 'coffee grinder' adaptations on the market today than were ever originally produced.

Fake Matchlock Cat.# SPAR 8092
Even experienced arms collectors must be weary of acquiring a skillfully faked weapon; forgeries to gain an illicit profit. Some specimens, made perhaps to satisfy the whim of a collector, pass into the market place with no evidence to show that they are not genuine. Of the latter character is the matchlock shown here. It is representative of the type of firearm used in the period when Plymouth and Jamestown were settled. If it were indeed of that period, it would be in remarkable condition, but the Springfield lock plate reveals its lack of authentication.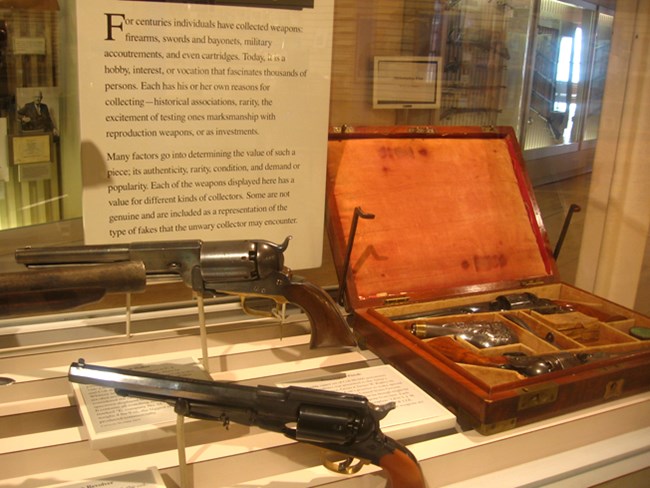 Pistols
(from top to bottom clockwise)
Colt-Walker Cat.# SPAR 5477
Presentation Pistols Cat.# SPAR 5368
Remington Arms Revolver [in foreground]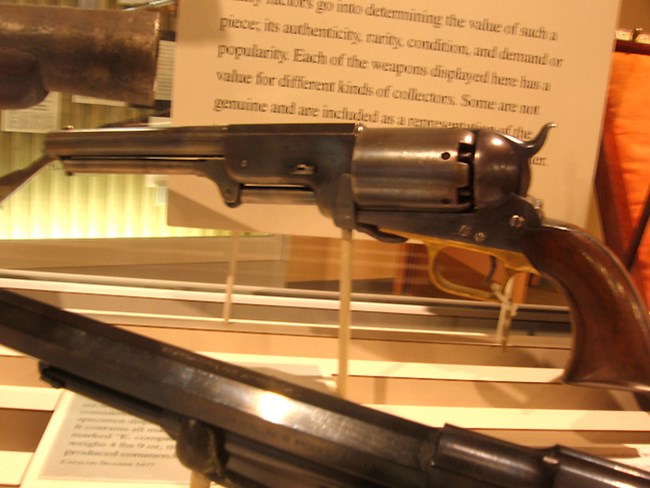 Colt-Walker Cat.# SPAR 5477
Samuel H. Walker, a former captain in U.S. Mounted Rifles, immigrated to Texas where he joined the Texas Rangers. Walker asked Colt to provide a revolver for the Rangers. Together, Walker and Colt designed the pistol which was built by Whitney in 1847. Only 1,100 of these .44 caliber six-shot revolvers were manufactured and they are considered the rarest of all Colt firearms. The specimen displayed here is one of the finest known. It contains all matching numbers throughout and is marked 'E. Company No. 58.' The Colt-Walker weighs 4 lbs. 9 oz., the biggest revolver ever produced commercially (until modern times).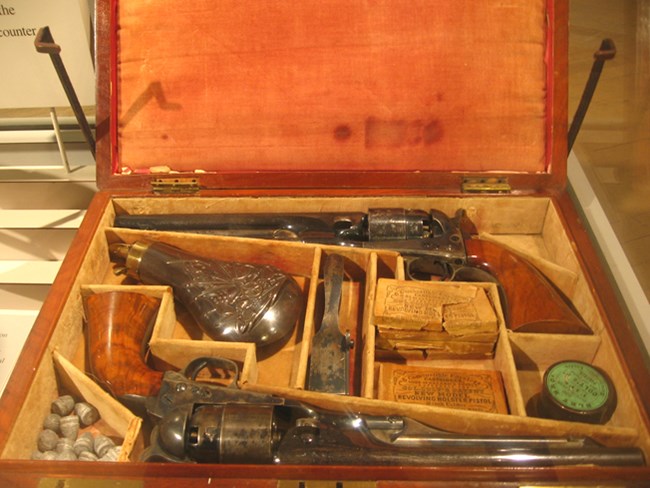 Presentation Pistols Cat.# SPAR 5368
This double cased set of Colt M1860 percussion "Army" revolvers was presented to the Army's Chief of Ordnance, General James W. Ripley, by Samuel Colt. It was Colt's practice to make special presentation weapons for United States Government officials and anyone else he thought might be influenced to purchase weapons from him. Each gun in this set bears the inscription "GEN'L. J.W. RIPLEY – WITH COMPLIMENTS OF COL. COLT." The serial numbers of these weapons are: 11684 and 11719.

Remington Arms Revolver
Not all arms enthusiasts are concerned with the collection of rare or unusual weapons. Many seek a more active enjoyment of old firearms, but the conscientious collector realizes that firing historic weapons may damage an irreplaceable artifact. A number of companies cater to this desire, and provide a variety of reproduction arms, either in kit or completed form. These enable many persons to test their skills without threatening valuable historic weapons.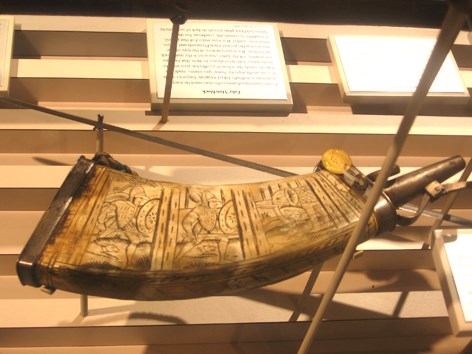 Accoutrements
Historic and rare firearms are not the only items of interest to collectors. Many individuals specialize in military accoutrements, such as the powder horn for a matchlock, or weapons like the Revolutionary War Hessian sword shown here.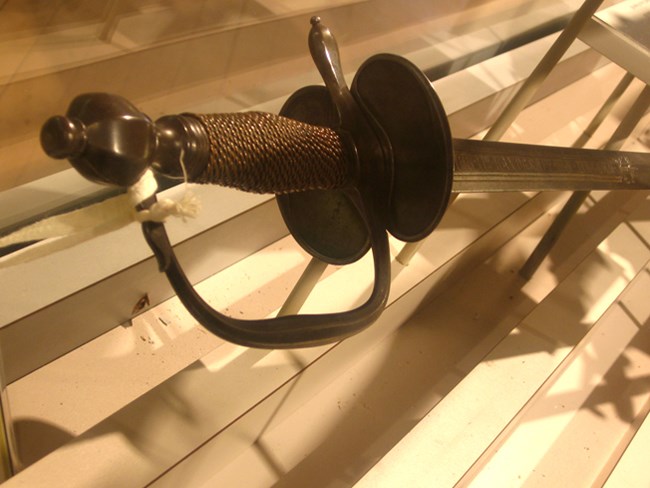 This Hessian sword was transferred to the Springfield Armory from the Ordnance Museum, Washington, D.C., in 1887.

Last updated: February 26, 2015