Battling Malaria & Escorting the Convention Army
John Glover's service in the latter part of the Revolutionary War, 1777-1782, was considerably different from his experiences in the early part of the conflict. He was hampered by a mysterious illness, although a strong commitment to the cause kept him in the army. While General Washington counted Glover as one of his most able officers, changes in patterns and locations of major battles prevented the Marblehead brigadier general (a position to which he was promoted in February 1777), from performing the laudable deeds of 1776.
Brigadier General Glover played an important role in the Saratoga campaign of 1777, the turning point of the war when the American captured an entire British army in upstate New York. Commanding a brigade, the Marbleheader led successful raids on the vulnerable Crown forces in late September. In October, his troops captured a deserter who revealed the location of British troops and helped avert a possible disaster for the American army.
Glover was present October 17 when British General John Burgoyne surrendered to America's commander at Saratoga, Major General Horatio Gates. Following the victory, Gates assigned Glover responsibility for escorted the defeated forces -- know to history as the Convention Army -- of about 5,750 men on a month-long march of 250 miles to Cambridge, Massachusetts. Taking charge of defeated aristocratic European generals and their troops (both British and Hessian) was a challenging and fascinating experience for Glover, the man from humble origins. Through the long movement, he gained the respect of General Burgoyne and the commander of the German forces, General Friedrich von Riedesel.
In late 1777, Glover's health began to worsen. Beginning with the onset of shivering chills, the cycle would continue with headaches, dizziness and nausea, followed by high fever. Additionally, Glover experienced inability to sleep and weakness that left him debilitated for weeks after a seizure. (Although not really diagnosed at the time, or by later historians, recent research by a St. Paul's Church NHS staff member concluded that he was suffering from malaria.) Even with the aid of quinine, the attacks recurred, for new parasites would continually grow in the bloodstream.
This condition, combined with the shift of the major fighting to the South, changed Glover's role. His last major military action was in the Rhode Island campaign, when his brigade halted a British advance and helped facilitate an amphibious withdrawal at Newport in late August 1778. Assigned to the Hudson Highlands in 1780, he was part of the military tribunal that sentenced British Major John Andre to hang in the notorious Major General Benedict Arnold treason affair, and directed Andre's execution.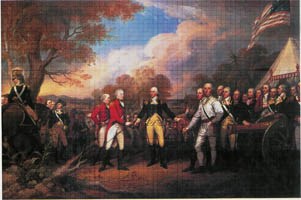 Last updated: March 31, 2012