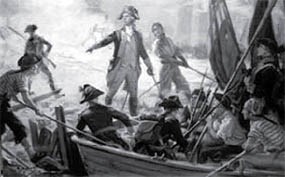 The New York-New Jersey campaign of 1776 was a difficult experience for the American forces. The British dealt a series of devastating blows to the fledgling Patriot army from August through December, nearly destroying George Washington's forces. In many ways, it was Colonel John Glover, using expert seamanship, military leading ship and pure grit, who helped to save the American independence movement in those days that tried men's souls.
Following the crushing victory of the British over the Patriot army at the Battle of Brooklyn on August 27, Glover's 14th Regiment, or "Marblehead Mariners" performed an extraordinary rescue feat. At 5 o'clock in the morning of the 28th he and his regiment crossed to Brooklyn from Manhattan. Following fierce fighting and British reinforcements on land and sea, General Washington made the wise decision to evacuate, and Glover directed the manning of the vessels and rafts that had been brought down through the Harlem River from the North (Hudson) River.
During the first part of the summer night, the men worked with great difficult became of the ebb tide and a strong north east wind. But later, when the wind changed and a heavy fog providentially covered the Long Island side, Glover and his fishermen-soldiers were able to complete the evacuation of Washington's 9,000 men, field pieces, heavy ordinance, and all ammunition, as well as horses, cattle, and provisions. All this was accomplished in nine hours across the East River between Brooklyn and Manhattan, oars muffled against the splashing of the water.