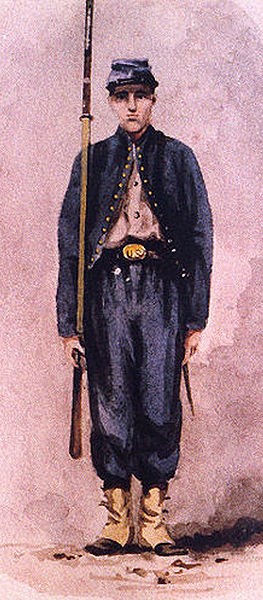 James Hyde served with two distinctly uniformed regiments in the Civil War, while also helping to feed the Union troops. After returning to civlian life, he worked on some of New York City's earliest highways before dying in 1923, followed by his internment at St. Paul's cemetary.
An urgent recruitment drive in the summer of 1862 was required because of Confederate victories in Virginia. Hyde, who was 22 and living with his family, enlisted on August 19 for three years with the 5th New York Volunteer Infantry. Hyde likely chose this unit over many newer units because of the regiment's Zouave appearance, modeled on the legendary Algerian fighters. Even in the 19th century, prior to the emergence of mass media, daily newspapers and periodicals spread the word about this charismatic infantry unit, notable for their baggy red pants, open blue shirts and fez turbans. James was the sole Hyde out of five brothers to volunteer for the military campaign to preserve the Union, indicating a family disagreement over the war.
Enrolling in a regiment that had sustained considerable casualities, Hyde underwent minimal training and rapid integration into the ranks. Hyde reached the unit just after heavy losses at the Second Battle of Bull Run, August 30. The Zouaves were held in reserve at Antietam, but Hyde fought at the Union defeat at Fredericksburg in mid-Decemeber, and following winter camp, clashed at Chancellorsville in early May 1863. That Virginia battle ended the two-year life of the 5th. Hyde was one of the 230 recruits transferred to the 146th New York Volunteers to complete their three year enlistments. So many soldiers came from the 5th to the 146th, they adopted their own version of the Zouave uniform.
Within two months of integrating the veterans from the 5th, the 146th fought at the critical Battle of Gettysburg, helping to secure the strategically important Little Round Top for the Union Army. Hyde served with the unit for the duration of the war, and perhaps experienced combat in the Virginia Overland Campaign of 1864, but was dispatched for several temporary assignments with the commissary department, the wing of the Army responsible for provisioning thousands of soldiers. The commissary purchased, stored and supplied food for the Union troops. The department was often staffed with wounded soliders on light duty, but Hyde's pre-war employment as a store clerk provided him with the necessary skills to log and track massive supplies of coffee, salt pork, hard tack and other elements of the solidier's diet. Commissary personnel also reviewed private contractor bids.