Stacy Riggs Biography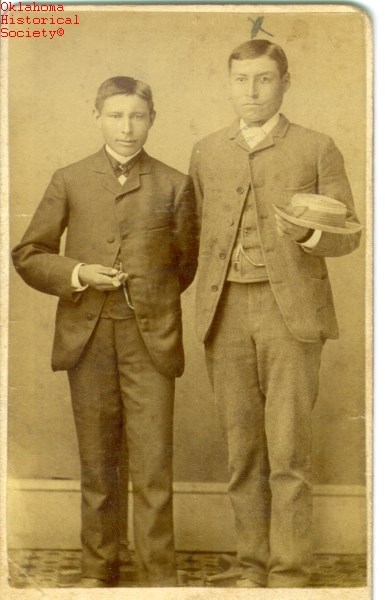 In 1879, less than a generation after the Sand Creek Massacre, Carlisle Indian School opened in Pennsylvania. The school's mission sought to "Kill the Indian, Save the Man".Among the first Cheyenne to arrive at the school was Stacy Riggs.
Riggs lived through the last years of the free-roaming Plains Indian Nations. He made a successful transition to a Christian lifestyle in 20
th
Century western Oklahoma.
Riggs avidly wrote and supplied "old time" Indian News to several Oklahoma papers. These papers published his article "
From the Warpath to the White Man's Road
" at Geary, Oklahoma in 1939.
Thomas B. Williams noted in his book Soul of the Red Man, "It was a great thrill to spend the day (November 18, 1936) in conversation with Stacy Riggs, 79 years of age, the grandson of Black Kettle…His mind is keen, his form lithe and erect, and he relates his experiences with no indication that he is conscious of his daring acts and the courage of his conduct."
Riggs firstborn son, Gentle Horse, was named after Riggs grandfather and brother of Chief Black Kettle. At Riggs passing in 1942, he was survived by sons Edward N., Howard, Francis K., and Benjamin Riggs, and daughters Margaret Curtis, Jeanette Howling Crane, and Minnie Riggs (Standing Bull or Bearbow).
Last updated: November 14, 2019