Jacob Downing Biography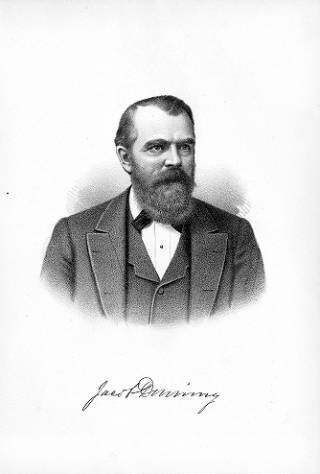 Jacob Downing arrived in Colorado during the 1859 Gold Rush. He served as an early Municipal Court Judge in Denver before volunteering for service with the 1st Regiment of Colorado Infantry (later Cavalry). In this role, Major Downing participated in the Civil War battles of Apache Canyon, Pigeon's Ranch and Peralta in New Mexico.

After a stint as Post Commander at Fort Larned, KS., Colonel John Chivington promoted Downing to Assistant Inspector General for the District of Colorado. During the Indian War of 1864, he commanded several companies of cavalry which attacked and burned several Cheyenne villages, including one at Cedar Canyon north of the South Platte in Colorado Territory. Major Downing actively participated in the Sand Creek Massacre. In 1865, Downing provided legal counsel in the defense of Colonel Chivington during the military inquest.

Downing's career included a position as Probate Judge for Arapahoe County, Colorado. Prior to his death in 1907, Downing amassed considerable property in the Denver area, including a 2,000 acre ranch near Green Mountain where he grew alfalfa and raised shorthorn cattle and Arabian horses.

In 1911, Downing's widow Caroline donated a scalp lock taken by the Major at Sand Creek to the Colorado Historical Society. Ironically, Downing testified to the military commission in 1865, "I saw no soldier scalping anybody, but saw one or two bodies that had been scalped."
Last updated: November 14, 2019