For Teachers
If you are interested in planning a field trip and/or requesting a ranger visit to your school, please contact Sand Creek Massacre NHS at (719) 729-3003 x 0. A three week advanced notice is preferred.
Field Trip Considerations
Please call in advance to schedule a field trip. Group drop-in's may not be accommodated. When contacting the park in advance, please let staff know if you are planning to bring more than 50 people and/or have any mobility-impaired students as this will require additional planning on the park's side in order to accommodate. Advance planning on your part, will ensure the best educational experience for your group.
Ranger-Led Programs Currently Available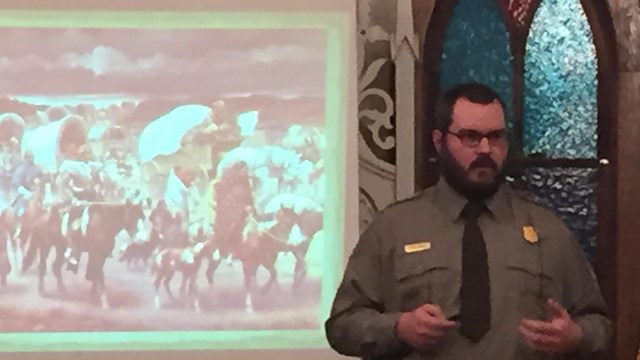 Ranger School Visits
Have a ranger come to your school or event.
Orientation Talks (15 Minutes)
For groups with limited time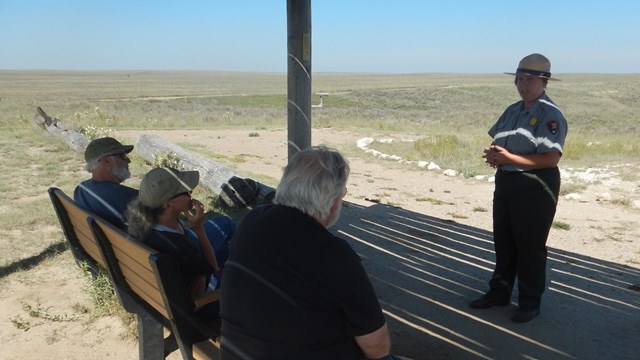 Hill Top Talk (45 Minutes)
For groups with more time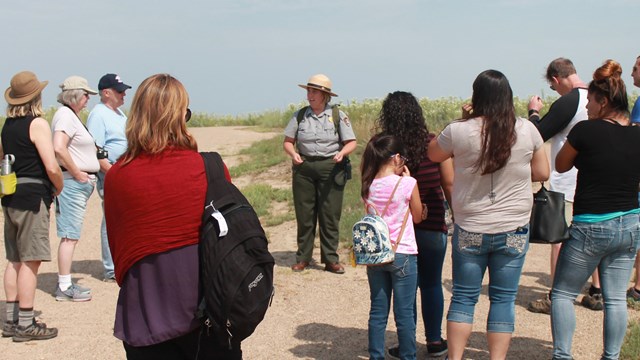 Guided Tour (1.5 Hours)
The complete experience
Be Part of Designing a Successful Curriculum
Currently, staff are working with educators and tribal representatives to develop a permanent curriculum-based education program for grades K through 12 and beyond. While park staff have a host of NPS-produced educational resources to draw upon, staff are interested in hearing from educators, who actually teach the Sand Creek Massacre as part of their curriculum.
We would welcome feedback from educators on best practices, resources, and methods of teaching used when teaching the Sand Creek Massacre to students of all ages.
Suggested Reading
Sand Creek Massacre.
Stan Hoig. University of Oklahoma Press: Norman, 1961.
Contested Plains: Indians, Goldseekers, and the Rush to Colorado.
Elliot West. University Press of Kansas, 1998.
Halfbreed: The Remarkable True Story of George Bent Caught Between the Worlds of the Indian and the White Man.
David Fridtjof Halaas & Andrew E. Masic. Da Capo Press, 2004.
Massacre at Sand Creek: How Methodists Were Involved in an American Tragedy.
Gary L. Roberts. Abingdon Press, Nashville, 2016.
Finding Sand Creek: History, Archeology, and the 1864 Massacre Site.
Jerome A. Greene & Douglas D. Scott. University of Oklahoma Press: Norman, 2004.
A Misplaced Massacre: Struggling Over the Memory of Sand Creek.
Ari Kelman. Harvard University Press, Cambridge. 2013.
Lincoln and the Indians: Civil War Policy and Politics.
David A. Nichols. Minnesota Historical Society Press, 1978.
Life of George Bent: Written From His Letters.
George E. Hyde. University of Oklahoma Press: Norman, 1968.
The Cheyenne Indians: History and Society, Vol. I.
George Bird Grinnell. University of Nebraska Press, Lincoln and London, October 1972.
The Cheyenne Indians: War, Ceremonies, and Religion, Vol. II.
George Bird Grinnell. University of Nebraska Press, Lincoln and London, October 1972.
The Fighting Cheyennes, Vol. 44 (The Civilization of the American Indian Series).
George Bird Grinnell. Charles Scribner's Sons, 1915.
Sand Creek: Tragedy and Symbol.
Dissertation by Gary Leland Roberts. The University of Oklahoma Graduate College, Norman, OK. 1984.
Sand Creek Massacre Project: Volume I: Site Location Study.
National Park Service, Intermountain Region, Denver. 2000.


Last updated: October 18, 2018