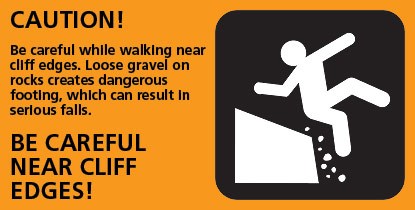 Be Careful Out There!
San Juan Island National Historical Park offers many opportunities for discovery. To help ensure a safe, enjoyable visit, pay attention and follow a few important guidelines as you explore the park.
Emergency phone: 911

Be prepared. While hiking, remember to bring:

Water (at least 20 ounces)

Map

Adequate clothing (rain jacket and warm layers)

First aid kit

Flashlight

Be careful while walking near cliff ledges. Loose gravel on rocks creates dangerous footing, which can result in serious falls.

Be sure to tell someone your plans—when you are leaving, where you are going, and when you will return.

Remain in one place if you become separated from your group.

Check for ticks, as Lyme disease can occur in this area. If you are walking through tall grass, consider wearing long pants and using insect repellent.

Drive safely and wear your seatbelt at all times. The speed limit is 25 mph in the park unless otherwise noted. It is easy to get distracted by scenery—pay attention.

Do not drink and drive.

When in doubt, ask a ranger first!
Remember that your actions can make the difference between a happy memory and an unpleasant experience.
Trail Safety
There are a number of things you can do to make your hike safer.
Carry water (at least 20 ounces, more on warm days).

Wear sturdy hiking shoes. Dress for variable weather.

Follow park trails and use a map.

Do not modify or build new cairns or wood structures. Changes to trail markers may endanger other hikers.

Know the difficulty level of the trail and your physical abilities and limitations.