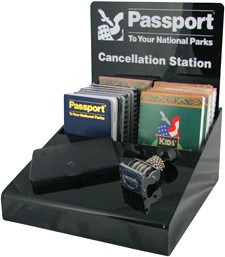 As with the 406 other units in the National Park Service, San Juan Island National Historical Park participates in the "Passport to Your National Parks" program and, depending upon the season, has cancellation stations at both park units and park headquarters in Friday Harbor.

The American Camp visitor center, 4668 CattlePoint Road (six miles south of Friday Harbor), is open 8:30 a.m. to 5 p.m., daily May 30 to September 7; and 8:30 a.m. to 4:30 p.m.,Wednesday through Sunday during the winter months.

The English Camp visitor center—located off West Valley Road, between Yachthaven and Roche Harbor roads (nine miles north of Friday Harbor)—is open 9 a.m. to 5 p.m. daily May 30 to September 7 and is closed during the winter months.

Those who cannot make it to the park units or visit the island in the winter months can have their passports stamped at park headquarters, 650 Mullis Street, Suite 100 in Friday Harbor. The office is open Monday through Friday, except holidays, year round. Call 360-378-2240, exts. 2229, 2221 or 2227 for information.