Island Marble Butterfly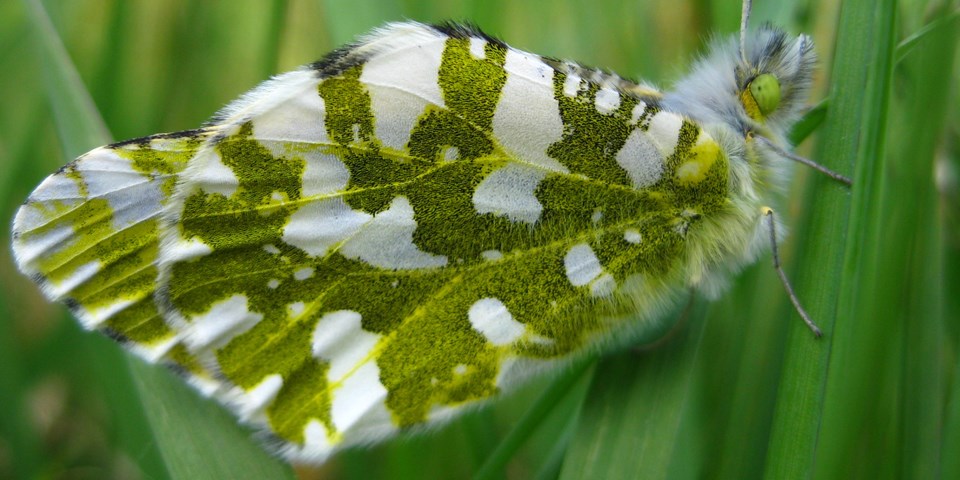 The reappearance of the rare Island Marble butterfly on San Juan Island after nearly 100 years continues to intrigue researchers and enthusiasts throughout the country.

In 1998, the Island Marble (Euchloe ausonides insulanus), thought to be extinct since 1908, was discovered during a prairie butterfly survey at American Camp. The only known specimens had previously been found on Vancouver Island and Gabriola Island in British Columbia.
Scientists believe American Camp, along with scattered locations on San Juan and Lopez islands, to be the only viable population in the world. At this point, the Island Marble is not listed as an endangered species, but efforts are ongoing to protect it. In 2009, the U.S. Fish and Wildlife Service (USFWS) sponsored a survey in partnership with San Juan Island National Historical Park to learn more about the natural history of the butterfly, including how far it flies, how long it lives, and whether gender ratios vary in different areas.
In follow-up to a 2008 mark-release-recapture (MRR) study by Merrill Peterson, a professor/researcher in the Biology Department at Western Washington University, the park conducted another MRR in spring 2009 during the flight period, and will also monitor usage of test plots of native host plants beginning in 2010.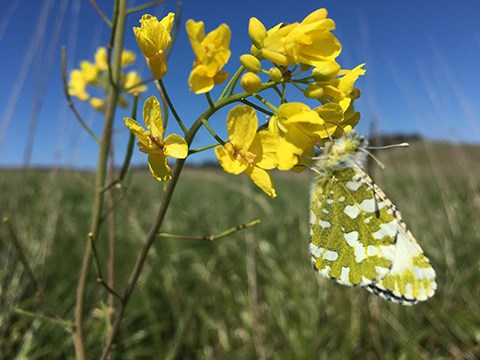 In addition, the park, USFWS and the Washington Department of Fish and Wildlife are currently working with and assisting private landowners outside the park with conservation strategies and habitat protection for the Island Marble butterfly.
The next step includes determining if it can adapt to feeding and laying eggs on native rather than the nonnative mustards it is currently utilizing at American Camp. This will be critical in determining whether or not the park incorporates native mustard plants into its ongoing prairie restoration plan.
The Island Marble is white and pale green with a mottled pattern of greenish-yellow under its hind wings. Look in the grassy prairie near wild mustard plants. Don't confuse it with the more common Cabbage White, which is mostly white with a yellow underside and feeds on the same plants.
Protection status: Washington state Candidate (under review for listing as state Threatened or Endangered) species. The Federal government under the Endangered Species Act simply lists it as a Species of Concern, which is more or less a watch status. To read an article the National Park Service recently wrote about this journey, head here!
Last updated: June 18, 2018