Golden Paintbrush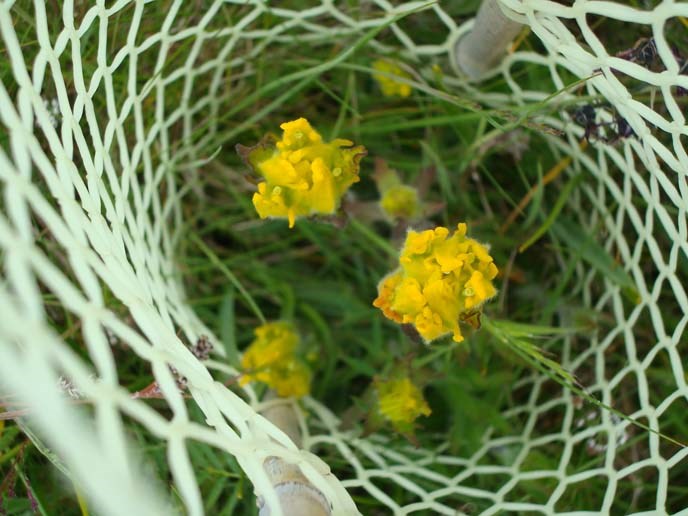 Golden Paintbrush
(Castilleja levisecta)
Golden paintbrush—once a thriving symbol of native northwest grasslands—is in the planning stages of being reestablished at American Camp. Of the 42 paintbrush species in the Pacific Northwest, this is the only one with yellow bracts, which glow when it blooms from April through June.
Once abundant in Oregon, Washington, and British Columbia, it's currently listed by the US. Fish and Wildlife Service (USFWS) as endangered, and is found in fewer than 11 populations in Washington and Canada, largely due to habitat destruction and fire suppression.
In an effort to recreate a self-maintaining population, the National Park Service and USFWS (and other agencies and landowners) are collecting local seeds, overseeing propagation at Fourth Corner Nurseries in Bellingham and planting on False Bay Drive and private properties around San Juan Island. About 300 plugs are scheduled to be planted on the American Camp prairie in fall 2009 to establish two separate populations at American Camp. The eventual goal is to have at least two and hopefully three populations of 1000 individuals each of golden paintbrush.
Protection status: Washington State Endangered species and Federally Threatened species. State and globally ranked as critically imperiled.
Park status: Reintroducing to park
To volunteer to collect seed, report sightings or help with planting, contact Todd Trapp, Biologist, San Juan Island National Historical Park, at todd_trapp@nps.gov.
Links
Oregon Fish and Wildlife Fact Sheet

Washington Department of Natural Resources

USDA Golden Paintbrush Challenge

UFWS Reintroduction Plan for Golden Paintbrush
Last updated: March 31, 2015