QR8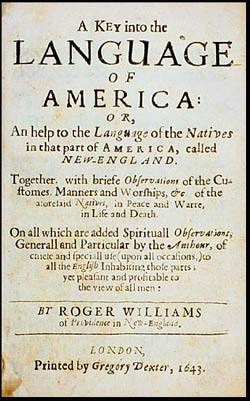 Roger Williams wrote "A Key to the Language of America" in 1643. The book included both translated Narragansett words and related cultural notes based on Williams' observations and experiences living with the Narragansetts.

Some of the words found in the book include:
Nuppusquannick - My back, or at my back.
Mohcont, tash - A legge, legs.
Wussette, tash- A foot, feet.
Wunnicheke - Hand
Wunniskegannash- Hands
Wunnptunita - My heart is good.
"Obs[ervation]: This speech they use whenever they profess their honestie; they naturally confessing that all goodnesse is first in the heart."
Last updated: February 26, 2015