QR7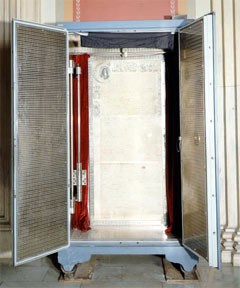 On July 8, 1663, King Charles II of England issued a Royal Charter that established Rhode Island as a self-governing colony and strengthened Rhode Island's territorial claims.

The Charter also guaranteed that Rhode Island would:

". . . hold forth a lively experiment, that a most flourishing civil state may stand and best be maintained, and that among our English subjects, with a full liberty in religious concernments; . . . "

The original 1663 Royal Charter of Rhode Island is currently preserved in a fireproof vault located outside the Senate Chamber in the Rhode Island Statehouse, which stands on Smith Hill overlooking this park.


Last updated: February 26, 2015