QR5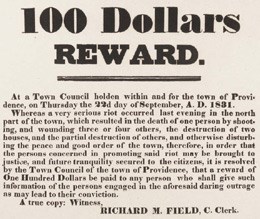 How Providence Became a City: Snowtown Riot 1831
In late September 1831, a dispute between white sailors and black citizens living in the Snowtown section of Providence, located just west of where you are standing, led to a confrontation in which three sailors were wounded and one was killed. As a result, a mob of 700 to 1000 formed and, for the next three nights, razed a number of buildings in the neighborhood. The state militia was called in and before order was restored, four people were killed. The Providence Town Council offered this $100 reward for information about those who started the riot.
In November of that year, the town, in light of the events in Snowtown, voted by an overwhelming majority, " that it is expedient to adopt a city form of government", and ratified the town's charter to become a city.
Last updated: February 26, 2015