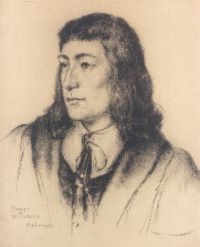 "My dearest love and companion in this vale of tears, I send thee, though in winter, a handful of flowers made up in a little posy, for thy dear self and our dear children to look and smell on, when I, as grass of the field, shall be gone and withered."
-Letter from Roger Williams while he was in England to his wife Mary.
Roger Williams served Rhode Island in various roles in throughout his life but only served as it's chief officer from 1654 through 1658. The two trips to England to secure documentation for the Colony exhausted his finances, even so far as forcing him to sell his trading post with the Narragansett to finance one of the trips. These trips to England kept him away from his beloved family for several years at a time.
Roger and his wife Mary had six children, 3 boys and three girls. Of these children, Mary, Daniel and Joseph each had six children of their own. Daughters Freeborn and Mercy had four and eight children respectively. Providence was the only one of the Williams children not to have children of his own. Today, the descendants of the Williams's number in the thousands.
In addition to his trips to England, Roger spent a great deal of time with the Narragansett. While he would preach to those that would listen, he also learned from them. Roger took several lessons from the Narragansett. He would often comment how the Indians did not attack one another over religious beliefs. Quite often he would use examples of how the Narragansett lived as a contrast to the behavior of the English.
Although they have not so much to restraine them (both in respect of knowledge of God and lawes of Men) as the English have, yet a man shall never heare of such crimes amongst them [as] robberies, murthurs, adultries &c., as among the English.