King James I (1566 - 1625)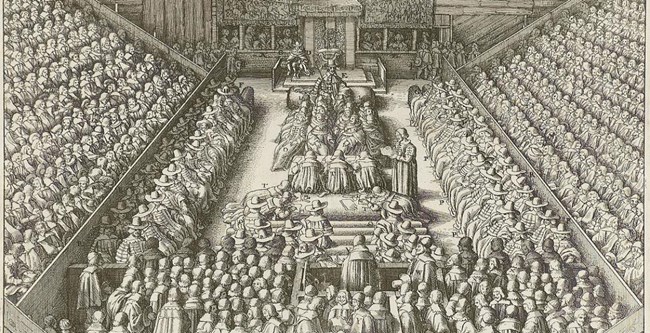 James VI was born in Scotland in 1566. He became King of Scotland in 1567 when his mother, Mary Queen of Scott's, abdicated her throne. When Queen Elizabeth I of England passed away, James became King. Queen Elizabeth had no heirs, so rule of England and Ireland passed on to her nearest royal relative. King James VI of Scotland was crowned as King James I of England in 1603.
Roger Williams
was also born that year. The policies of King James influenced Williams' thoughts and ideals.
When James came to power in England there had been a long religious struggle between previous rulers. Since King Henry VIII created the Church of England in the 1530's, every one of his successors attempted to reinstate or replace it as the official religion of England. One of the first things King James did was to cement the Church of England as the official religion of England. He also translated the bible into English. That translation is known as the King James Bible, and it is still widely used today.
King James's policies isolated religious communities. As a result, many English disdained their government. Some religious groups, such as the Pilgrims and the Puritans, chose to leave England and set sail for America. King James' strong belief in the absolute power of the monarchy also caused him to clash with the English Parliament. James refused to acknowledge Parliament's rights and he failed to connect with the English middle-class. This poor relationship led to James dissolving parliament in 1611.
King James had many political shortcomings. These issues directly affected his successor,
King Charles I
. The turmoil between the King and English Parliament lasted for years, and led to the outbreak of the English Civil War in 1642.
Learn More
Roger Williams

Learn about Roger Williams' Story

People

Learn more about Roger Williams and other influential people of his time.
Last updated: October 2, 2020