Champion of Religious Freedom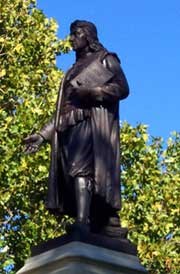 Champion of Religious Freedom:
Roger Williams and the Settling of Rhode Island

Roger Williams National Memorial commemorates the life of the founder of Rhode Island and a champion of the ideal of religious freedom. Williams banished from Massachusetts for his beliefs, founded Providence in 1636. This colony served as a refuge where all could come to worship as their conscience dictated without interference from the state.
This hands-on, standards-based education program introduces students to Roger Williams and his struggles in early Colonial New England to establish a safe haven, a refuge for religious freedom.

Enduring Understanding
Roger Williams founded Providence on the idea of religious freedom, but centuries later, there are still countries that do not give their citizens this right.
Essential Questions
In what ways did Roger Williams' actions show his ideal of religious freedom.
How did he influence the settlement of Rhode Island and the foundations of the nation?
Objectives:
Students will be able to:
Explain who Roger Williams was and give one example of his ideas or beliefs.
Describe how Providence, Rhode Island came to be settled.
Identify how Roger Williams's actions led to the religious freedom we enjoy today.
Explain that there are still many places in the world where people do not enjoy religious freedom.

Download pre-visit activity
Last updated: February 26, 2015