Things To Do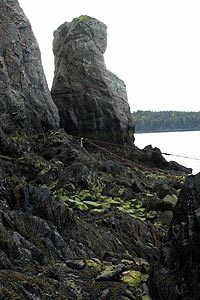 Visitor Center
The visitor center offers exhibits about FDR and the video "Outer Island/Beloved Island," produced by the Roosevelt Campobello International Commission. A small bookstore features a limited selection of memorabilia.
Roosevelt Cottage
Guides are stationed throughout the Roosevelt Cottage to answer questions and provide interpretation of the home and artifacts as you tour the house at your own speed.
The following rooms are on display:
President Roosevelt's office from his 1933 visit and his bedroom
Mrs. Roosevelt's writing room
Living room, dining room, and kitchen
Laundry
Nursery and family bedrooms
Four additional "cottages" dating from the same period are also part of the park. Of these, the Hubbard Cottage is available for public viewing when it is not in use in the park's conference program. You can also explore the extensive gardens, picnic areas, and ocean views.
Other Activities
There are 8.4 miles of driving roads located in the park's 2,800 acres (1,158 hectares), and eight miles of walking trails. You can wander the trails individually for a short hike or combine them for longer hikes. Visit bogs, forests, shoreline, beaches, and more.
Picnic areas are scattered throughout the park.


Last updated: December 10, 2014