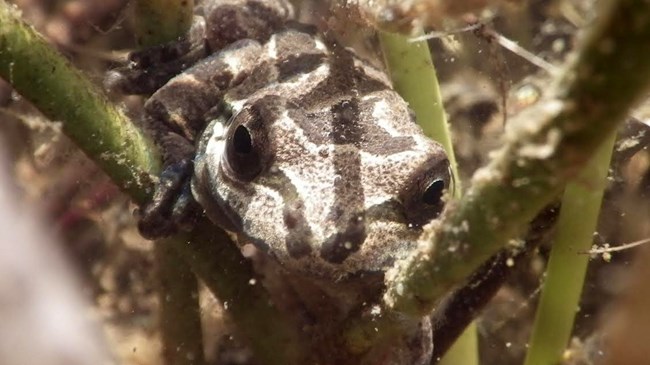 Reptiles and amphibians (herps) represent an important part of aquatic and terrestrial ecosystems. Amphibians in particular are good indicators of environmental change due to their sensitivity to a variety of factors such as pollution, introduced species, drought, habitat destruction, and disease. Herp populations may be affected by these factors and exhibit measurable changes in site occupancy, distribution, abundance, and species richness.
Frogs & Toads
These amphibious creatures are probably some of the least seen yet most heard animals in San Francisco Bay Area National Parks. Sodden areas near creeks and marshes are the best place to find most frog species. Unfortunately, similar habitats outside of parks and other protected areas are rapidly giving way to a variety of introduced changes.
Six species of frogs and toads currently call the parks home, including the non-native American bullfrog (Rana catesbeiana). The region's most common frog is the Sierran tree frog (Pseudacris sierra), a species that calls in large, loud choruses in the late winter and spring. Foothill yellow-legged frogs (Rana boylii) were historically abundant in Pinnacles streams, but have not been seen in several decades. A re-establishment plan for this species is currently under consideration.
One of the best-studied frogs in the parks is the federally threatened California red-legged frog (Rana draytonii).