Protecting the park from climate impacts
Congaree National Park is proud to be taking steps to reduce its greenhouse gas emissions and help the park adapt to climate change. These actions are part of our plans as a Climate Friendly Park. We want to preserve our beautiful landscape for our community and our country.
How is Congaree protecting the environment?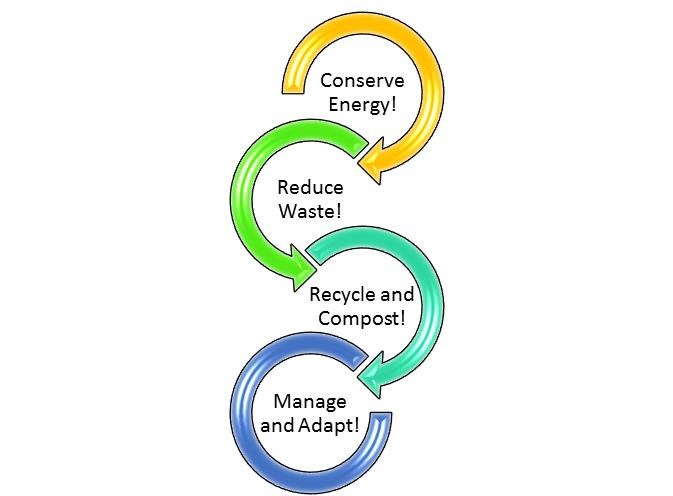 Conserve Energy!
We are determined to implement energy-saving technology at our park.
Automobiles contribute to 27% of all carbon emissions in the U.S. Our staff members have added two electric hybrid vehicles to our transportation fleet along with an electric golf cart for errands within the park. This allows us to cut our own fuel emissions, improve air quality, and contribute to a cleaner environment for our state and country.
Buildings contribute to about 12% of all carbon emissions in the U.S. All buildings at Congaree have been outfitted with energy efficient light bulbs to cut emissions. We are also actively pursuing solar hot water heaters and photovoltaic systems to update all buildings in the park.
We encourage you to consider carpooling to Congaree National Park when possible to reduce your own greenhouse gas emissions!
Reduce Waste!
We are taking action on waste reduction in our park.

A water refill station is located in the breezeway of the Harry Hampton Visitor Center. Providing a refill station encourages visitors to use refillable water bottles. This cuts back on plastic bottle usage while simultaneously cutting back on greenhouse gas emissions by decreasing the need for the manufacture and transport of plastic water bottles.
To help reduce waste at Congaree, bring your own reusable water bottles to the park during your visit. The water refill station is always available for use by visitors and staff.
Recycle and Compost!
Congaree park staff members are dedicated to recycling and composting.

Composting at Congaree allows us to produce rich soil for landscaping around the park, reduce our methane emissions, and lower our carbon footprint by shipping less waste to the landfill. Park staff use compost bins outside the Harry Hampton Visitor Center and the Old-Growth Bottomland Forest Research and Education Center (OGBFREC).
We recycle as much as possible. Around the park, visitors are encouraged to do the same. Recycling bins can be found near the visitor center, outside the Bluff Trails campgrounds, and along the boardwalk. We encourage you to recycle whenever possible and to employ Leave No Trace principles during your stay at Congaree.
Whether you're hiking the boardwalk for a few hours or camping in the floodplain for several days, your actions can truly make a difference.
Manage and Adapt!
Our management strategies are giving the forest the best chance of adapting to climate change.

Congaree staff members are working with research, education, and community partners to engage visitors in protecting our watershed. Our ecosystem depends on the Congaree River. We are downstream from Columbia, the capitol of South Carolina, a city that continues to grow and develop. We must work with as many outside organizations as we can to maintain a healthy water quality, protect our forest, and give our ecosystem the best chance of adapting to a changing climate. In addition, all the water used in the park comes from the ground. We must keep our waters clean to keep our staff and visitors healthy.
Natural resource managers are making invasive hog management a top priority. We must reduce the hog population to allow our forest ecosystem to maintain a healthy balance. The park also works with the NPS Southeast Coast Exotic Plant Management Team to control a long list of exotic invasive plants.
Educators and communicators are working to expand knowledge of and access to climate change science. The NPS Old-Growth Bottomland Forest Research and Education Center (OGBFREC) is working to educate and communicate these important issues to the public. OGBFREC's mission is to advance scientific understanding, appreciation, and stewardship of natural and cultural resource dimensions of riverine and forested landscapes across the Southeast United States.
Congaree is dedicated to helping our floodplain forest adapt to a rapidly changing climate. We are working to upgrade building facilities to conserve even more energy; implement a system to track energy and water usage; and to incorporate climate change information and dialogue in our interpretive programs.
Last updated: August 3, 2015