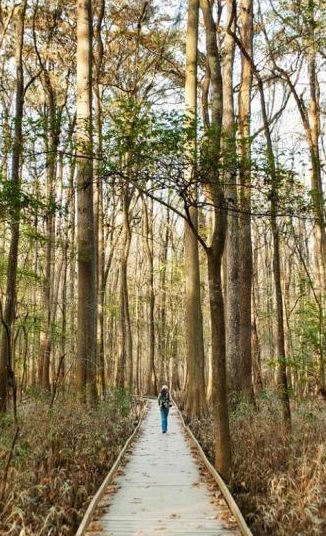 Congaree National Park draws well over a hundred thousand visitors every year. As of 2009, Congaree had over 20 documented state and national champion trees, or trees that have been judged to be the largest of their species. Some of our champions are hundreds of years old! As of 2015, the park is working with partners to catalog new champions.
The Congaree floodplain forest is a testament to a time when South Carolina was lush and wild. This ecosystem is one of the last and best-preserved swaths of this historic landscape. It connects us with our past and has been preserved for our future.
Climate change is already impacting park resources. Our best chance in the fight to protect Congaree is to mitigate our carbon footprint, adapt to the changes we are already experiencing, and prepare for future impacts by working to keep the forest and watershed as healthy as possible.
Hydrology
The moisture and nutrients provided by the flooding of the Congaree River define and sustain this ecosystem. Since the river is the lifeblood of the floodplain, we can expect the area to change with the water.
Congaree National Park is located downstream of Columbia, the capitol of South Carolina. The frequency, magnitude, timing, and duration of flooding and the quality of the river water influence the forest community and the geomorphology of the park.
The regional seasonality of rain is shifting in this watershed. More rain is coming in short downbursts which can increase flash flooding. As floods and droughts increase, the forest ecosystem will be impacted. Increased development in Columbia and beyond will also have an effect on Congaree's natural systems.