What are we doing at Chattahoochee?
Chattahoochee River National Recreation Area is proud to be taking steps to reduce its greenhouse gas emissions and help the park adapt. We want to preserve the river and watershed for this community and the entire country.
How is Chattahoochee River National Recreation Area protecting the environment?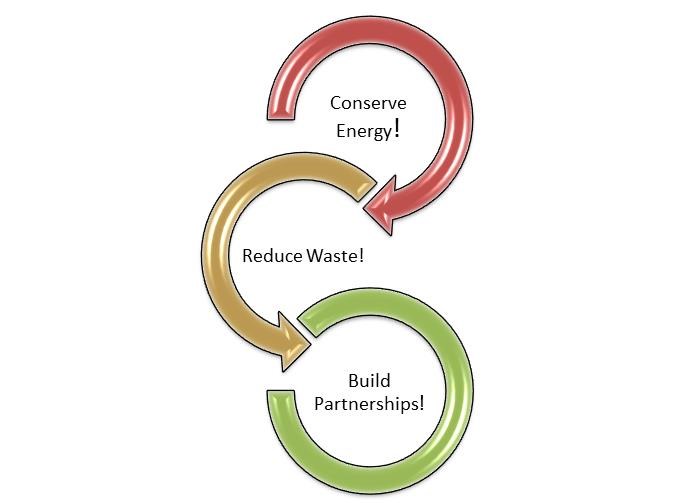 Conserve Energy!
Staff members are determined to implement energy-saving technology at the park.

Buildings contribute to about twelve percent of all carbon emissions in the U.S. Cutting energy usage in buildings helps decrease costs while simultaneously decreasing resources we must use to power the park.
All buildings in the park have been outfitted with energy efficient light bulbs to cut our carbon footprint: this has reduced our energy costs by 60-80%.
Some buildings have new insulation which helps cut costs and keep temperatures regulated.
All buildings have programmable thermostats that are set to the most efficient temperatures daily and nightly. Staff members regularly check thermostats to insure they are working properly.
Occupied buildings have upgraded heating, ventilation, and air conditioning (HVAC) systems that use less energy to heat and cool Chattahoochee's five occupied buildings.
To further reduce emissions and conserve energy, we encourage you to consider carpooling to Chattahoochee River National Recreation when possible.
Reduce Waste!
We are taking action on waste reduction.

We encourage you to bring your own reusable water bottles to the park during your visit. This will reduce the amount of plastic you must purchase.
Use fewer disposable items whenever possible but if you must use something disposable, remember to take it out of the park and recycle it! In addition to recycling, please employ Leave No Trace principles during your stay at Chattahoochee River National Recreation Area.
Humans are not the only things that deposit harmful wastes into the watershed: we have placed signs around the recreation site to encourage pet owners to clean up after their animals, too.Whether you're hiking the trails for a few hours or kayaking down the river, your actions to keep our watershed clean can truly make a difference.
Build Partnerships!
Our park staff members know that it takes more than one small group to manage the river. We work to build and maintain partnerships with a variety of organizations across the region to help keep our watershed healthy.

Chattahoochee River National Recreation Area works with research, education, and community partners to engage visitors in protecting our waters. Our ecosystem and visitor resources depend on the entire watershed. The Chattahoochee River is inextricably connected with Atlanta, and millions rely on the river as a source of drinking water and as a recreation site: we must work to maintain a healthy water quality not only for the health of the environment but for our own health as well.
Educators and communicators are also working to expand knowledge of and access to climate change science. The Chattahoochee Nature Center educates and communicates important issues to the public. They are dedicated to enjoying, conserving, rethinking, and restoring the Chattahoochee watershed.
Last updated: August 3, 2015