What are we doing at Cape Lookout?
Cape Lookout National Seashore is proud to be taking steps to reduce its greenhouse gas emissions and help the park adapt. We want to preserve this beautiful landscape for the community and the country.
How is Cape Lookout protecting the environment?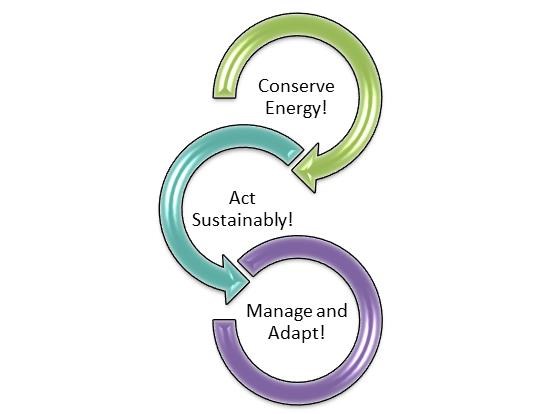 Conserve Energy!
We are determined to implement energy-saving technology at Cape Lookout National Seashore.

Staff have taken action on greenhouse gas emissions. In the last two years, Cape Lookout has reduced their energy consumption by twenty percent!
Solar panels fully power the Cape Lookout Light Station visitor center, eliminating the need for a gas powered generator.
Energy efficient windows and blinds and a programmable thermostat have been installed in the New Harkers Island Administration and Visitor Center buildings.
The auditorium has an upgraded heating, ventilation, and air conditioning (HVAC) system and better insulation to prevent unnecessary energy usage.
Act Sustainably!
We are taking sustainable action to plan for the long-term conservation of resources at the seashore.

Staff have worked to create a sustainable landscape that can be enjoyed by visitors:
Picnic tables are built with sustainable, recycled materials.
The park is constructing a new bathroom at Harkers Island picnic area using sustainable materials that will significantly reduce long-term maintenance.
Recycling receptacles are available at the visitor centers and park picnic areas. They will soon be available at the Great Island and Long Point cabin areas and other key locations throughout the park.
Manage and Adapt!
Staff members and volunteers at Cape Lookout National Seashore are working to protect its natural and cultural resources from the impacts of climate change.

By adapting to rising sea levels and planning for more extreme weather events, staff can implement management strategies to protect and conserve the seashore:
The park installed new hurricane shutters at the Administration and Visitor Center building to protect the structure in future storms.
Park staff are managing the horse population at Cape Lookout in response to increasingly limited food, water, and land availability.
Staff are currently assessing all seventy historic structures to determine which will benefit most from adaptation measures.
Cape Lookout National Seashore is dedicated to helping the barrier islands adapt to a rapidly changing climate. Staff are working to upgrade building facilities to conserve even more energy and to incorporate climate change information and dialogue in community and visitor outreach programs.
Last updated: August 3, 2015