Specimen Rehydration in Isle Royale Museum Collection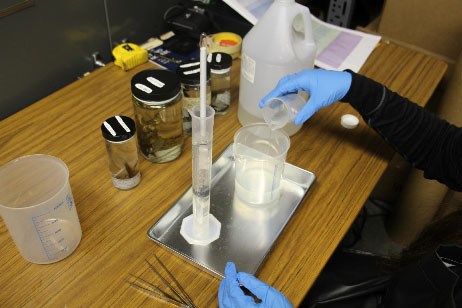 Natural history specimens in museum collections can provide researchers with a wealth of data on biometrical, genetic, toxicological and ecological dynamics of historical populations. Isle Royale National Park (ISRO) has a modest collection of fluid preserved natural history specimens, most dating back to the 1960s and 70s when field collections were sporadic and casual. Recently, museum staff discovered that the preservative in a number of specimen jars, containing a range of invertebrates, fishes, amphibians and reptiles, had completely evaporated over the years, leaving specimens highly desiccated.
During the summer of 2017, Martin Hobmeier and Jennifer Murphy, interns at Isle Royale National Park and Pictured Rocks National Lakeshore, researched methods to improve the condition of specimens in museum collections.
Martin and Jennifer chose to follow a new, simplified, and economical method (first outlined in a paper by Randy Singer (2014) and based on previous work by John Simmons) for rehydrating the specimens. The procedure involved bringing the desiccated specimens back into a hydrated state very gently and gradually, beginning with a lengthy exposure to 100% humidity, followed by submersion in 100% distilled water for two to ten days. The concentration of ethanol was then increased by 10-20% every few days until the solution reached 70% ethanol. The entire process took months to complete. By the end of the rehydration process, the mean quality score for all specimens increased from 5 (very poor) to 16 (fair).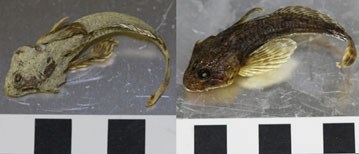 Based on these comparisons, Hobmeier and Murphy's results revealed that for specimens from the relevant era (1960's to 1990's) and preserved in a similar fashion, rehydration can greatly improve, but not fully restore severely desiccated specimens. Not only will their work help inform other museum staff, but it restored specimens that will now be useful to researchers investigating historical wildlife at Isle Royale National Park!
Last updated: September 15, 2018