Determining the Extent of Rusty Crayfish Invasion at Voyageurs National Park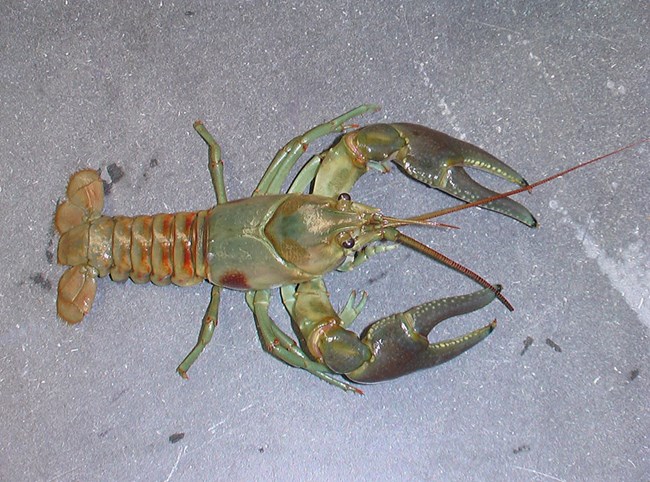 Rusty crayfish are an invasive species, and unfortunately, they were found in Voyageurs National Park's (VNP) Sand Point Lake in 2006. This summer, Aquatic Ecology Intern Ashley Smith, and Biological Science Technicians James Smith and Chandra Wiley conducted an investigation to determine the current extent of the rusty crayfish invasion. They deployed trap lines (comprised of three baited minnow traps spaced several meters apart on parachute cord) near the Grassy Bay area of Sand Point Lake and near boat ramps on Rainy and Kabetogama Lakes and the Ash River.
Their investigation showed that these invasive crustaceans were found 7.81 km farther along the Sand Point Lake shoreline than they had been in a previous study done in 2012. They did find good news, though! No rusty crayfish were detected at any of the boat ramp locations surveyed.
You can help! Please do not move live crayfish from one body of water to another anywhere, and remember that it is illegal to use live crayfish for bait in any lake in Voyageurs National Park. For more information, visit https://www.nps.gov/…/l…/nature/aquatic-invasive-species.htm
Last updated: September 14, 2018