Integrated Monarch Monitoring Program at Indiana Dunes National Park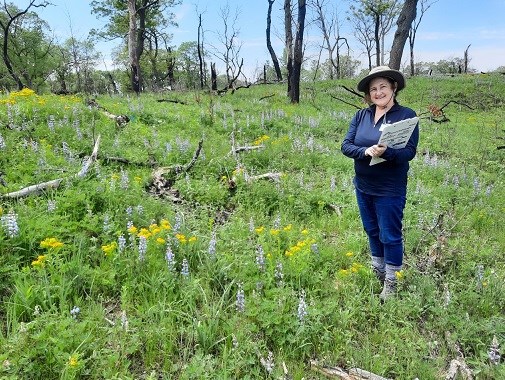 Indiana Dunes National Park and the Great Lakes Research and Education Center seek volunteers to participate in the Integrated Monarch Monitoring Program (IMMP) at our monitoring site in Miller Woods each year between late May and early October. There are opportunities to participate in three different activities which are all part of the program.
One activity, the "Milkweed and Blooming Plant Survey", is designed to assess monarch habitat. Participants count the number of milkweed host plants and assess the relative abundance of blooming plants that provide nectar for adult monarchs. Volunteers can choose to conduct one of two types of surveys. In survey option A, wildflowers are identified to species. In survey option B, monitors record the presence or absence of blooming plants, and wildflower identification skills are not necessary.
A second activity, the "Monarch Egg, and Larvae Survey", affords volunteers the opportunity to walk the monitoring plot noting and identifying any species of milkweed they find. They examine each milkweed plant and record whether any monarch eggs, caterpillars, or pupae can be found. When caterpillars are found, monitors determine which instars are represented.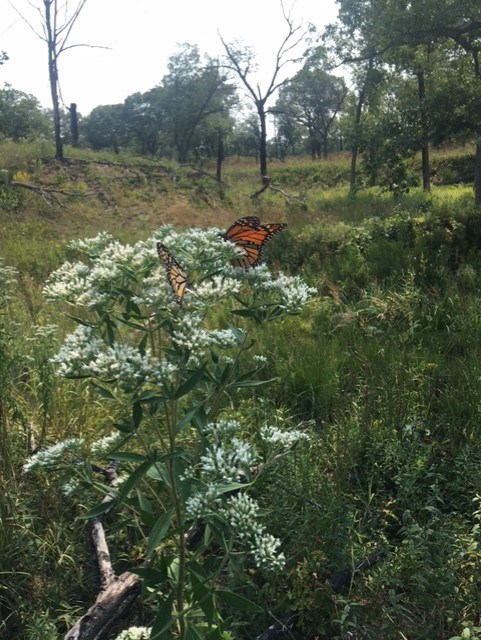 The third activity is the "Adult Monarch Survey" which involves walking a 500 foot transect looking for, and recording, any adult monarchs and whether they are seen flying, resting, ovipositing, nectaring, or mating. When monarchs are nectaring or ovipositing, the milkweed species they are on is also recorded.
All survey options involve walking off the trail through tall grasses and other vegetation in hilly terrain.
A training session is held each spring at the Paul H. Douglas Center for Environmental Education and our study plot in Miller Woods. Participants will be asked to view several short videos prior to the training.
The IMMP is a national program to collect milkweed, nectar plant, and monarch use data from a variety of land-use types and regions. This information is vital to shaping our understanding of how monarchs interact with their environment, documenting conservation efforts, and tracking the population and its habitat as they change over time. Visit the Integrated Monarch Monitoring Program webpage on the Monarch Joint Venture website to learn more.
If you are interested in volunteering for this project at Indiana Dunes National Park, please
contact us
!
Last updated: September 30, 2021