Dragonfly Mercury Project at Sleeping Bear Dunes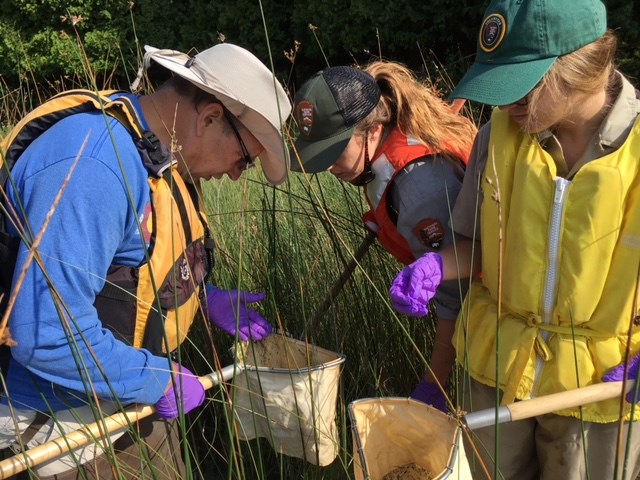 Volunteer citizen scientists and National Park Service (NPS) staff joined forces to collect dragonfly larvae at four lakes in Sleeping Bear Dunes National Lakeshore (SLBE) this summer. Their mission was to collect 10 - 15 larvae (also called nymphs) from each lake and identify them to family. Once each nymph was identified, measured, labeled, and carefully packaged, it was placed in the freezer. Ultimately all samples will be shipped on dry ice to a United States Geological Survey (USGS) laboratory in Oregon where they will be analyzed to determine their mercury content.
The mercury which has bioaccumulated in the bodies of the dragonfly nymphs can be used to estimate mercury levels in the lakes and wetlands they are from, as well as fish, if present. Mercury in its methylated form is toxic, and capable of causing reproductive and neurological impairment in both humans and wildlife. More than 90 national parks have participated in the Dragonfly Mercury Project since it began in 2011. The project is a collaboration among several organizations, including the NPS, USGS, University of Maine, and the Schoodic Institute. Knowing the levels of mercury in dragonfly larvae can help the NPS identify hot spots to guide future park research and inform risk communication to protect the public. It can also provide baseline information to measure the effectiveness of mercury reduction policies. Not only that, but the citizen scientists who participate learn more about the natural world!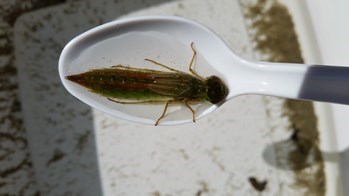 The NPS Great Lakes Inventory and Monitoring Network, an umbrella group that assists SLBE and eight other national parks in the western Great Lakes with natural resource inventory and monitoring activities, has adopted this work as a key component of their contaminants monitoring program, ensuring that it will continue into the future.
Visit
Dragonfly Mercury Project
for more information.
Last updated: September 12, 2018