Artist in Residence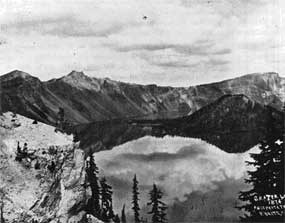 Due to staffing shortages, applications for new residencies are temporarily on hold. Check back for updates.

The Crater Lake Science & Learning Center, in collaboration with the Crater Lake Natural History Association and the Friends of Crater Lake National Park, coordinates and delivers the park's Artist-in-Residence program.The program provides an opportunity for two eligible artists to spend up to two weeks of the fall, and another two artists for up to two weeks in the spring, at Crater Lake National Park to pursue their particular art form while surrounded by the awe-inspiring landscape of the park. The residency provides housing in the park to work on projects in one of the most beautiful places on Earth.

Writers, sculptors, photographers, painters, dancers, cinematographers, musicians, composers, and other visual and performing artists are invited to apply for this opportunity to draw upon the multifaceted qualities of the park for inspiration. All of these artists translate the national park's purpose--as a place of pleasure and preservation--into creations that bring others enjoyment and deeper understanding.
Eligibility and Selection Process
The Artists-In-Residence program at Crater Lake National Park offers both established and emerging writers, composers, and visual and performing artists the opportunity to participate.
The program will support one established artist and one emerging or student artist each season (spring and fall).
All applicants must be 18 years of age or older.
A committee of park staff, park partners, and community arts leaders will review application materials. All projects must abide by National Park Service policies.
Goals of the Artist-In-Residence Program
Capture the beauty of the park by encouraging the creation of high quality art that interprets the Crater Lake National Park experience.

Inspire visitors, students, and teachers, enhancing public enjoyment and understanding of Crater Lake National Park through artistic expressions.

Celebrate student and emerging artists! While the program is designed to appeal to artists at any stage, we encourage applications from interested college students including those enrolled in Crater Lake National Park's partner institution, Southern Oregon University.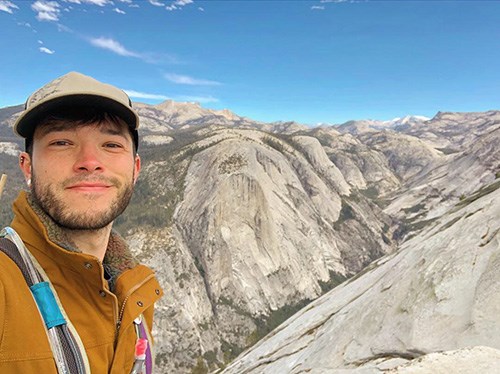 Meet 2019's Artists-in-Residence!
Spring Emerging Artist Sean Vidal Edgerton
After studying Plant sciences and Ecology and Evolutionary biology at University of California, Santa Cruz, Sean Vidal Edgerton completed a graduate program in Science Illustration at California State University, Monterey Bay. Since then, he has worked as a wildlife illustrator in Madagascar, an entomological illustrator at the Smithsonian, freelance scientific illustrator, and has received a Masters in Ecology, Evolution, and Conservation Biology at San Francisco State University focusing on the evolution of viruses and their epidemic activity during historical and modern outbreaks. Currently he works as both a Botanical Illustrator and Microbiologist at the California Academy of Sciences in San Francisco. With the pen for visual communication, pipette for scientific research, and the pangolin for education, awareness, and conservation work - Sean's goal as a scientist and illustrator is to understand the diverse world of natural history and help progress effective environmental stewardship from the ground up.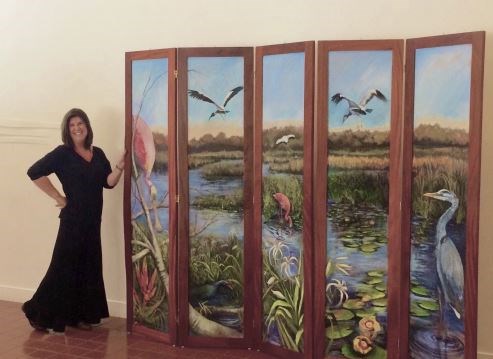 Spring Established Artist Pat Cummins
Born in New York, Patricia Rottino Cummins completed her undergraduate studies at City University of New York. Upon graduation she relocated to Miami, Florida, intrigued by its color and light. Her graduate and post graduate studies continued at Florida International University. She has taught art for thirty-six years at Miami-Dade Public Schools, and was an
adjunct professor for thirteen years at Barry University, Florida. Over the years she has been selected to serve painting residencies at fourteen United States National Park Artist-in-Residence programs. For over ten years Pat has been invited to exhibit her work and present seminars at Walt Disney World's International Festival of the Arts, and Epcot's Flower and Garden Festival. She has studied art and has painted "en plein air" in
Turkey, Greece, Italy, France, China, Australia and Central America. Her work is featured in numerous collections throughout the United States. In 2015, her paintings of Big Cypress traveled to Niamey, and were exhibited at The American Embassy in Niger, Africa. Her botanical paintings were included in a National Park Centennial Exhibition, "Flora of the National Parks", at the Smithsonian. Pat was awarded Florida's Elementary Art
Educator in 2015, by the Florida Art Education Association. Pat retired in 2015 from Miami Dade County Public Schools, but has recently taught pastel painting at Osher Life Learning Institute, at the University of Miami.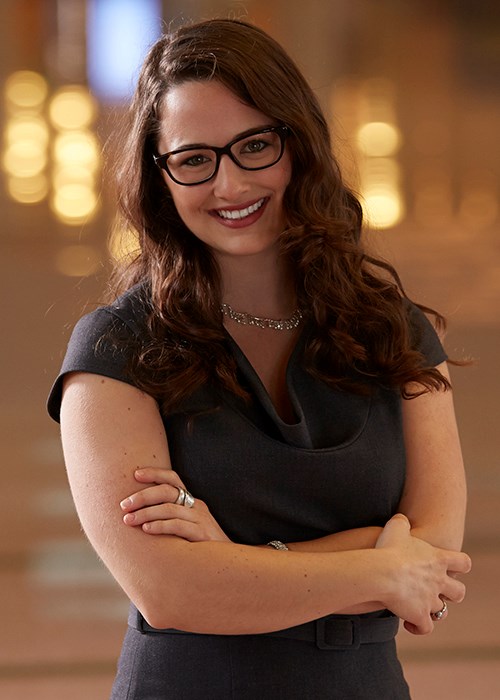 Fall Emerging Artist Kendra Tillberry
Kendra Tillberry has been scribbling away in her journals for the last ten years and only recently began publicly sharing the wisdom within those pages. She believes in the power of the written word and is inspired by writers who have used their abilities to spark political action. Creative nonfiction is her favored genre, and Kendra uses the memoir format to build connections between our lives and the physical world. In her writing, she braves unforged paths and leans into vulnerability to convey a rich, emotion-filled human experience. She is awaiting her first publication in a literary magazine and regularly submits to some of the finest literary magazines in the country.
Kendra is earning her master's degree in Creative Writing and Publishing from the University of Saint Thomas in St. Paul, Minnesota. She works as a professional communicator in school public relations where she's served two of the top five largest school districts in Minnesota for the last four years. An avid traveler, Kendra has been to more than 40 states and 15 countries around the world and uses these experiences to enrich her writing.
Usually she's writing or reading, but when she's not, you can catch Kendra doing yoga, hiking or spending time with her beloved pack of humans and animals she calls her "geese."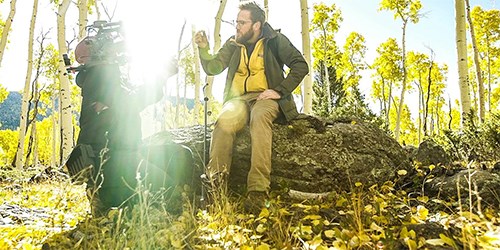 Fall Established Artists Brad Einstein and Kyle Niemer
Brad Einstein and Kyle Niemer are a writing and directing duo who explore the wonders of the natural world through the lens of comedy.
Brad is a comedian and writer currently living in New York who was recently called a "Brilliant Comedy Mastermind" by some very kind exaggerators at Time Out NY. In his career, he has contributed to Billy on the Street on TruTv, performed with the Second City National Touring Company, written the 2018 Tribeca Film Festival Awards, and is currently the host and creator of Encyclopedia Commedia at Caveat.
Kyle is a director and producer living in Chicago, IL. He specializes in backcountry filming, having directed and produced content for notable brands including DeVry University, Sonic, US Foods and Power Stop Brakes. He was nominated for Best Directing at the 2017 LA WebFest and his digital series The Trail won silver and bronze awards at the 2018 Telly Awards.
Together, they have shot comedic pieces in wild spaces across the country, most notably in conjunction with Fishlake National Forest covering the Pando clone forest, the largest organism on Earth. Their work helped secure Pando its first on-site recognition and educational signage, slated to be installed later this year.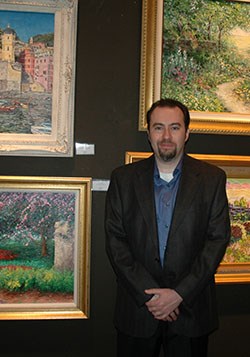 Meet 2018's Artists-in-Residence!
Spring Emerging Artist Fred Moss
Born and raised in the Chicago area Fred Moss was drawing and sketching the world around
him from an early age. He grew up visiting the Chicago Art Institute, often admiring the
outstanding impressionistic and classical painting collection. He attended the College for
Creative Studies after receiving a partial school grant and earned a bachelor's degree. After
graduation he studied with renowned painter Romel De La Torre, who helped him convey on
canvas his thoughts and feelings. He also studied at the Florence Academy of Art in his
grandparents' native country, Italy. There he found a subject matter that inspired him—the
scenic towns and countrysides of Italy. Fred painted Florence, Lake Como, Venetian canals,
and hiked the mountains of the Cinque Terre looking for scenic views to capture on canvas.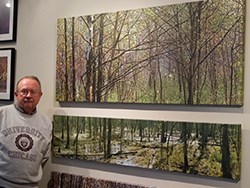 Spring Established Artist Craig Barton
Craig Barton is a mid-westerner now in Bloomington, Indiana. Craig's migration from his 8" x 10" view camera to digital imaging was finally achieved when digital imaging and post processing allowed for high dynamic range to be combined with overlapping images to yield adequate resolution for large prints. Subject matter ranges from landscape to architecture to macro photography.
"I try to capture what I see and that can be an extreme wide angle (which doesn't look like a wide angle) or a Georgia O'Keeffe view of a flower."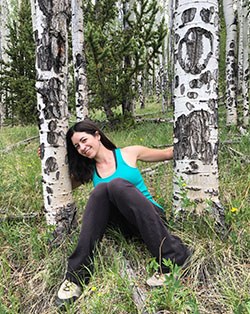 Fall Emerging Artist Heidi Annalise
Heidi is an oil painter from Denver, Colorado who focuses primarily on celebrating the beauty of the natural world and inspiring others to find new ways to connect with their environment. Her miniature outdoor paintings convey a sense of playfulness and whimsy with their small size, while also capturing realistic details and epic vistas. Each tiny painting is photographed on site as a record of that particular moment in time and a reminder to linger and cherish our outdoor adventures.
Heidi will be documenting her time at Crater Lake on her Instagram account (@heidi.annalise.art).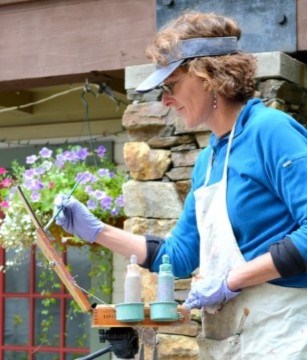 Fall Established Artist Claire Remsberg
Learn more about Claire at http://www.claireremsberg.com/Home.html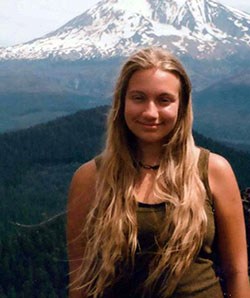 Meet 2017's Artists-in-Residence
Spring Emerging Artist
Madisen HIlligoss
Madisen Hilligoss is a 20-year-old student and artist from Vancouver, Washington. She has loved drawing her entire life, and during her adolescence turned to nature as a source of comfort and inspiration. She seeks to understand how art can be used to communicate about the environment, as well as how it can help us to maintain a personal and societal connection with the natural world. She expresses these ideas through a variety of mediums, from watercolor to woodburning, and is currently learning how to incorporate natural materials in her art. Madisen Hilligoss currently attends Quest University Canada in Squamish, British Columbia, a university that affords her the opportunity to combine her loves of the visual arts, ecology, and geology into an interdisciplinary program. Outside of making art, she loves to hike, read, travel, and learn new languages.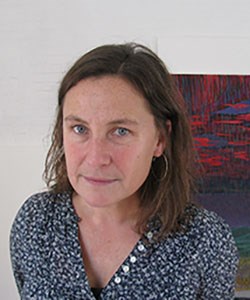 Spring Established Artist
Sue McNally
Sue McNally is a painter living in Newport, RI, working in both Rhode Island and southeast Utah. She makes large scale landscape paintings, small abstract paintings and self-portraits with a focus on the formal aspects of painting and drawing, balanced between traditional and contemporary languages. Sue has been traveling the United States by car two months of each year, since 1990, developing a direct and personal relationship with the American landscape. She is currently working on This Land Is My Land, 50 large scale paintings, each representing one of the 50 United States. Sue holds an M.F.A. from The Savannah College of Art and Design and has been a resident artist for Two Coats of Paint, Ucross Foundation, Yaddo, and the Vermont Studio Center. Collections include The Worcester Art Museum, The RISD Museum of Art, The Newport Art Museum, Fidelity Investment Corporate Collection and Wellington Management Corporate Collection.
suemcnally.com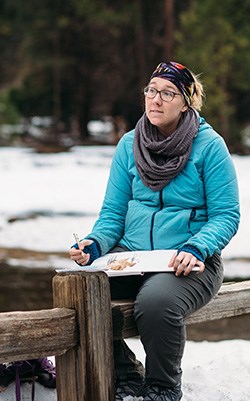 Fall Emerging Artist
Alyssa Black
"Nature and the great outdoors are my greatest loves, and advocating for them is my life's work. Advocacy takes many forms in my work, but the most important to me is education. With a background in Landscape Architecture and graphic translation of scientific information I find my work ranges from a simple tree illustration to complex graphics translating science to the public. Each graphic I create works to illustrate an ecological form, element, or relationship hoping to teach people about the natural world around them and create art that is functional."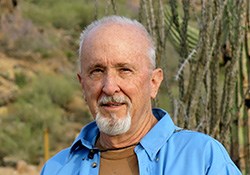 Fall Established Artist
Jeremy Jones
Jeremy is an award winning watercolor artist from Phoenix who uses realistic and abstract images to help people understand the enduring values of their environment. Around the world he has taken a handful of paints and a pad of paper and hiked to find subjects that are not only dramatic but that also tell a story about that location. At Crater Lake, he will paint a variety of images including landscapes of areas just a foot or two across in sensitive areas that will be the first places we will see the effects of climate change.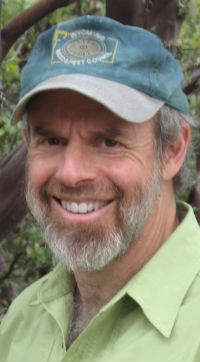 Meet Crater Lake's 2016 Artists-in-Residence!
Matt Witt is a photographer from Talent, Oregon who specializes in images that encourage the viewer to observe and value nature by focusing in on specific details in an unusual way. He has photographed while hiking or backpacking in mountain, desert, and coastal environments throughout the western states. His work has been featured in many national and local publications and in galleries in Oregon and California, and may be seen at MattWittPhotography.com.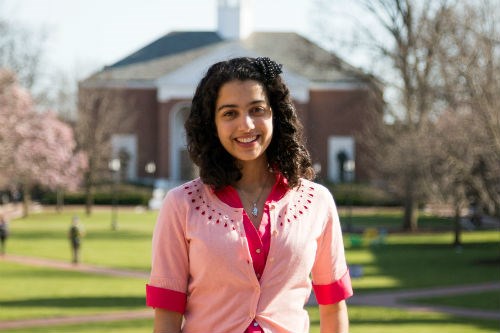 Tara is a student at Johns Hopkins University. When she isn't writing, you might find her reading a favorite 20th
century American novel (
The Grapes of Wrath, A Farewell to Arms,
and
To Kill a Mockingbird
come to mind), taking long walks, thinking about graph theory, or planning her next meal. She is fond of pursuing items on her bucket list, including visiting every National Park, driving across the country, going to a Kodaline concert, owning a telescope, and becoming a vegetable farmer.
Tara
is incredibly excited for her experience in residency at Crater Lake;she's looking forward to writing and learning in the beautiful park.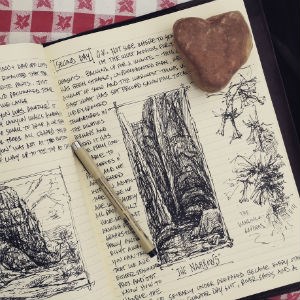 As Dan moves into the second half of his career he desires to visit and paint as many of the National Parks as he is physically able to. With five parks painted he realizes that this is a lofty
goal, but a challenge he is inspired to take on. John Muir speaks to Dan's core when he said
"In every walk with nature one receives far more than he seeks."
Dan is impressed by our country's commitment to protect and preserve natural and historic objects and wildlife for the enjoyment of future generations. His hope is to leave a legacy of paintings that when people look at them say
"I remember when I was there"
or
"I have to go see that with my own eyes".
Dan and his wife Julia live in Central Oregon where they own The Clearwater Gallery and The Open Door Wine Bar. They enjoy working and playing together in the beautiful Northwest.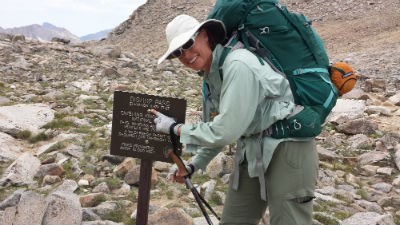 Katrina Hays was an opera singer and river guide before finding her way to writing. Her poetry and essays have appeared in
Psycholgical Perspectives, Bellingham Review, Apalachee Review
,
Crab Creek Review, Sea Stories
,
Classical Singer,
and
Cruising World
. In 2011 her work was nominated for a Pushcart Prize. She is the founding editor of
Soundings: The Journal of the Rainier Writing Workshop
, and holds an MFA in Creative Writing from the Rainier Writing Workshop at Pacific Lutheran University (2012). She lives in Bend, Oregon.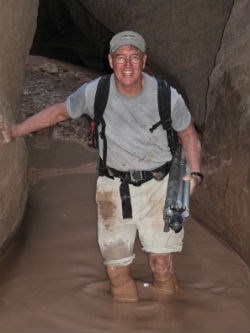 Steven McBurnett worked as a physicist for the US Navy and for the Defense Advanced Research Projects Agency (DARPA) before retiring to Bend, Oregon. His passion is photography: black & white, color, and panoramic. He shoots with a variety of medium format, large format, and digital cameras. His time is divided between wandering Central Oregon and the rest of the world with cameras in tow, and volunteering with the Deschutes County Sheriff's Search and Rescue Team.
Last updated: February 3, 2023