Research in Wilderness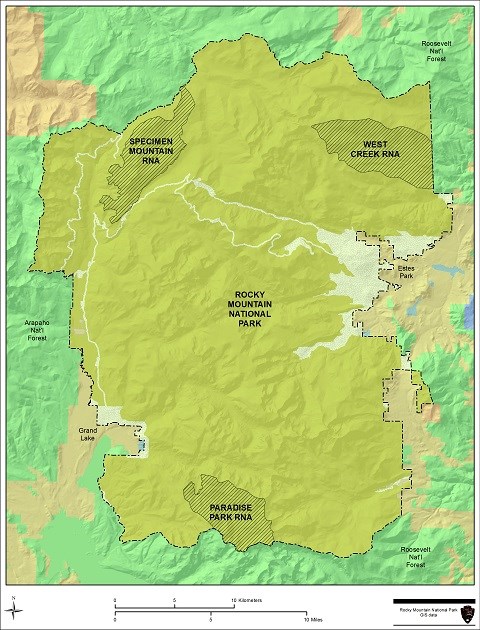 Nearly 95% of Rocky Mountain National Park (NP) was designated by congress as formal wilderness in 2009 under the Wilderness Act of 1964. Wilderness bestows a legal responsibility on managers to retain the wild, primeval nature or the park. The Act identifies specific uses that are generally incompatible with the purpose of wilderness including the use of mechanized transport and the installation of structures or equipment. The wilderness designation also serves to protect Rocky Mountain NP as a vast natural laboratory.
Science and research are critical to the proper management of Rocky Mountain NP and the Rocky Mountain Wilderness Area. National Park Service (NPS) policy requires that management activities that might affect natural and cultural resources be guided by high-quality, scientifically acceptable information, data, and impact assessment. Research and science often yield important insights that help secure the long-term preservation of wilderness.
Rocky Mountain NP encourages the continued use of the wilderness area for scientific inquiry in pursuit of preservation. Balancing research needs with the needs to preserve wilderness can be challenging. The best opportunities for finding a proper balance between the benefits of science and impacts to wilderness emerge when land managers and scientist collaborate well in advance of pursing on-the-ground research to identify outcomes that are beneficial to both scientific inquiry and wilderness values.
Tips on Planning Research in Wilderness
Early communication is the single best way to ensure project success. The Continental Divide Research Learning Center encourages researchers to contact the park to discuss and develop research projects that are consistent with wilderness regulations (romo_research@nps.gov)
Ask yourself why the research needs to accomplished in the wilderness rather than outside the park or in non-wilderness areas.
Ask yourself whether your research may impact wilderness values and how you can minimize those impacts.
Plan to use the least intrusive tools, equipment, and practices to accomplish your research.
Understand and articulate the scientific and management value of your research.
Make sure you and your crews have the equipment, experience, and training to work in wilderness.
Ground disturbance, collections, and installations require additional compliance; be prepared to explain your needs in detail and start the permit process as early as possible.
Last updated: March 26, 2015