Research Conference
2022 Science Behind the Scenery Webinar Series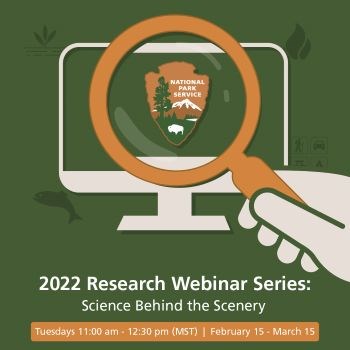 Rocky Mountain National Park is hosting a virtual Science Behind the Scenery Webinar Series in lieu of its traditional Biennial Research Conference. Each webinar will highlight research that supports high-priority resource management initiatives in the park. Researchers will present for 15 minutes each followed by a Question & Answer session during which time audience members can engage with presenters. A representative from Rocky Mountain National Park will be available to discuss applications of the research.
The Science Behind the Scenery Webinar Series is co-sponsored by the Rocky Mountain Conservancy and is free and open to the public. Please plan to join us to learn about the current research happening in your national park.

When: Tuesdays from 11:00am - 12:30pm MST, February 15 - March 15, 2022
Where: Virtual via GoToWebinar
Next Steps: One-time registration is required at https://tinyurl.com/RMNPWebinarRegistration. A link to access the webinars will arrive in your email inbox.
Live Captioning Services
Rocky Mountain National Park is committed to accessible content. Live captioning services are available following the link to the right.

 
Webinar and Presentation Schedule
Explore webinar topics by week. Use the drop down menu for presentation titles. 
"Pika surveys to test climate-based predictions of population loss" by Chris Ray, University of Colorado-Boulder and Hilary Rinsland, Northern Michigan University
"Trout population responses to the Cameron Peak fire" by Dan Preston, Colorado State University
"The Grand Ditch moves water but also trout across the Continental Divide: Implications for native trout management" by Yoichiro Kanno, Associate Professor, Colorado State University
"Riparian Vegetation Response to Restoration and Elk Management in Rocky Mountain National Park" by Hanem Abouelezz, Landscape Ecologist, National Park Service
"Lessons Learned from Installing Simulated Beaver Structures to Encourage Willow Growth in Rocky Mountain National Park" by Alex Brooks and Jeremy Sueltenfuss, Colorado State University
"Potential steps for restoring the Kawuneeche Valley: a collaborative approach" by Dr. David J. Cooper, Senior Research Scientist emeritus, Colorado State University
"Managing forests to moderate wildfire behavior and create tactical options for wildfire response" by Meg Matonis, Wildfire Analyst, The Ember Alliance
"Aspen forest conditions in eastern Rocky Mountain National Park" by Jason Sibold, Professor of Geography, Colorado State University
"Community Led Impact Mapping (CLIM) Program" by Paige Lambert, National Park Service
"Leave No Trace? Assessing Microbial Impacts of Visitor Use on Soil and Water in the Park" by Laura Scott, Ph.D., USGS Alaska Science Center
"The contribution of human waste to nitrate in Loch Vale waters, or, Marmots do not drink coffee" by Jill Baron, Colorado State University and U.S. Geological Survey
"Reservation for Bear Lake at 10am, party of four: A look into the RMNP Timed Entry Permit System from 2020 to 2021" by Noah Creany, Utah State University
"Parking Lot Usage in the Bear Lake Corridor & Alpine Visitor Center, RMNP, Summer 2021" by Lydia Lawhon, University of Colorado - Boulder
"Microsimulation of Emergency Evacuation of Bear Lake Road Corridor: Initial Results" by Bing Pan, Ph.D., Associate Professor and Ayse Akyildiz, M.S. Candidate, Penn State University
The Rocky Mountain National Park Research Conference
promotes collaboration between the park and its partners

provides a forum for researchers and park staff to share discoveries
highlights the past, current, and future issues relevant to park management
creates opportunities for young professionals and scientists to engage with park staff and the public
encourages dialog between the park, the public, students, and scientists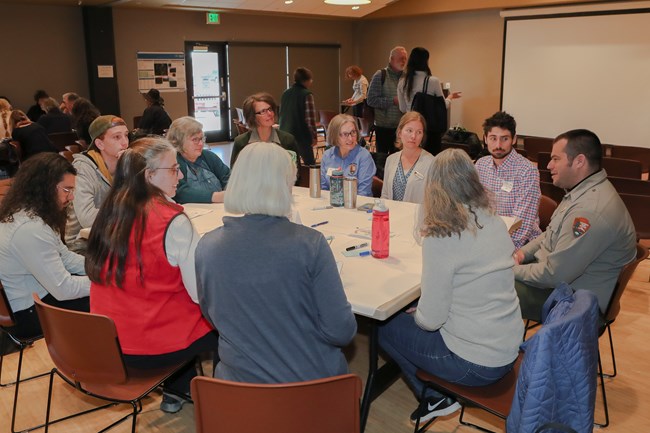 Past Conferences Proceedings
2020 Research Conference Proceedings
2017 Research Conference Proceedings
2015 Research Conference Proceedings
2012 Research Conference Proceedings
If you are using a screen reader and have difficulty reading these documents, please contact us at ROMO_Research@nps.gov for assistance.
Last updated: February 18, 2022