Research Conference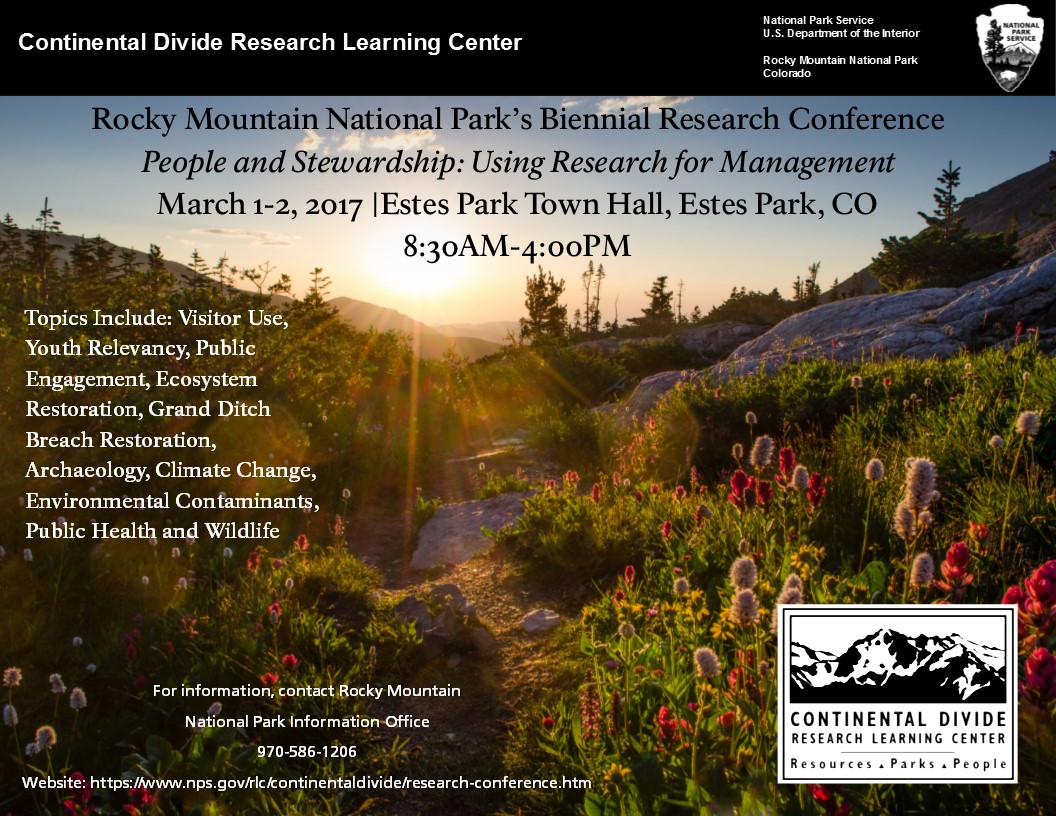 This year's conference was held on March 1-2, 2017 in the Estes Park Municipal Building, Estes Park, CO.

Presentation abstracts, poster presentation information, conference schedule, and Conversation Café topics can be found in the Conference Proceedings. (PDF 10MB)
Information for Presentations and Posters
Guidelines
The goal of the research conference is to encourage dialogue and learning among researchers, park staff and the public.

Presentations will be open to the public and to the media. Please keep in mind the interdisciplinary nature of the audience when preparing your abstract and presentation. Focus on the results and their link to management. If your research has management implications, include these in your talk or poster.

Presentations are limited to 20 minutes, with maximum of 17 minutes for the talk and 3 minutes for questions.

Posters can be no longer than 43 inches wide by 40 inches tall. Posters will be displayed using easels and display boards. Posters should be mounted on foam core so they can be set up on easels or display boards. Easels will be provided by the park, but please bring an easel, if you have one.
Audio-Visual Details
PowerPoint presentations (version 2003 or later) must be saved on a PC-compatible USB-jump drive or CD. Presenters must run their presentations from the provided computer.

We will provide an LCD projector, PC computer, laser pointer, and remote mouse.
Presentation Tips
We need to know the "So What" of your work. Present insights and results as opposed to just raw data. We know you use good scientific methods, tell us what "light bulbs" went on for you as a result of the work and how the park can incorporate it into resource stewardship, education, and visitor protection. Limit discussion of methods.

The main room has a mounted screen and two monitors which are small for the size of the room; adjust your slides accordingly. Use large font and white text on dark backgrounds (best) or black text if a light background. If possible, project your presentation on a screen beforehand and test for readability. Avoid slides crammed with numbers/tiny graphs.
If you have questions or would like to receive more information, please contact:


Scott Esser, Ecologist
Continental Divide Research Learning Center
Rocky Mountain National Park
Office: 970.586.1394
Scott_Esser@nps.gov
---
The Rocky Mountain National Park Research Conference:
promotes collaboration between the park and its partners
provides a forum for researchers and park staff to share discoveries
highlights the past, current, and future issues relevant to park management
creates opportunities for young professionals and scientists to engage with park staff and the public
encourages dialog between the park, the public, students, and scientists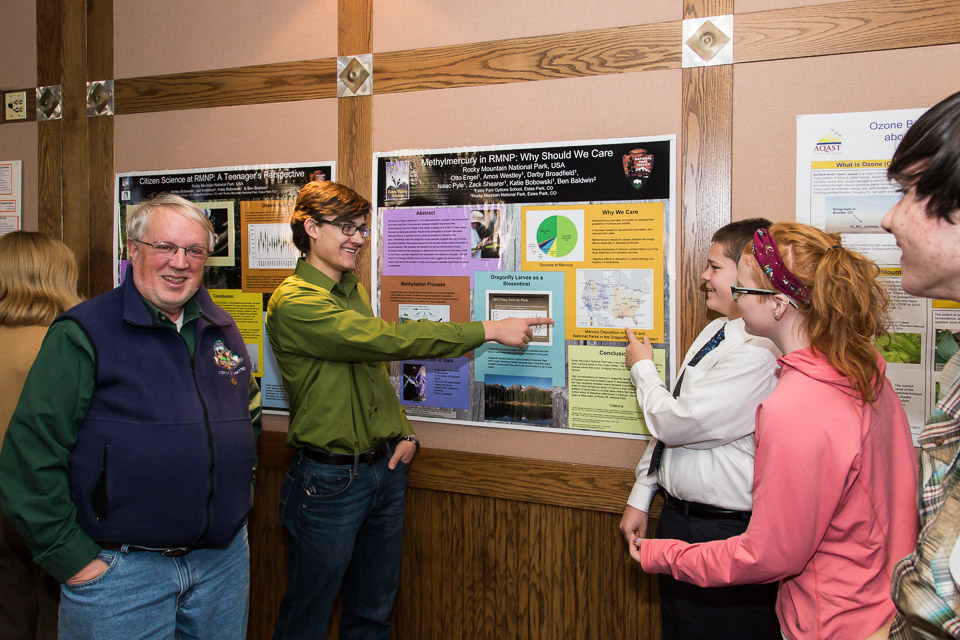 Past Conferences Proceedings
2015 Research Conference Proceedings (PDF 1666 KB)
2012 Research Conference Proceedings (PDF 910 KB)
2010 Research Conference Schedule (PDF 60 KB)
If you are using a screen reader and have difficulty reading these documents, please contact us at romo_research @nps.gov for assistance.
Last updated: June 29, 2017