CDRLC History
History of the Continental Divide Research Learning Center
Rocky Mountain National Park (RMNP) was already established when the Organic Act of 1916 mandated the National Park Service (NPS) to conserve natural resources and provide recreational opportunities in national parks. The NPS has upheld this directive in RMNP for nearly 100 years.
Another act of congressional legislation created an additional "Call to Action" for the 21st century. The National Parks Omnibus Management Act of 1998 authorized national park leaders to incorporate scientific research into their natural resource programs. Science-informed management decisions and policies were seen as the future of the NPS.
In response, the NPS developed a "Natural Resource Challenge" initiative that established new Research Learning Centers (RLCs) around the nation. These centers enhance research success and communication in national parks.
The Continental Divide Research Learning Center (CDRLC) was among the first group of RLCs launched in 2000. Research had already been part of Rocky Mountain National Park for a century, so it became a clear choice for a new RLC home. CDRLC staff and RMNP facilities continue to advance resource stewardship in this high-elevation park through research and education.
McGraw Ranch
McGraw Ranch has passed through many hands in its history. Hunting Guide Henry "Bucksin" Farrar first filed the property claim in 1884. The land became a cattle ranch under different ownership from 1886 until the 1920's.
When John and Irene McGraw purchased the property in 1909, they changed the ranch name from Double Bar Y to Double Bar X. Cattle proved to be unprofitable and the McGraws transformed the property into a guest ranch that hosted visitors. The ranch motto that still exists today is: "Rough it with ease."
The ranch stayed in McGraw family hands for several decades until they sold an initial 480 acres of land to the National Park Service (NPS) in 1966. It wasn't until 1988 that the NPS purchased the remaining property from private individuals.
The initial plans were to restore the area to natural wildlife habitat.The property had already been designated a historic district, and ranch changes required Colorado State Historic Preservation Office approval. In 1994, The NPS held a series of community meetings after public outcry over a NPS decision to remove ranch buildings. It was during this time that former Rocky Mountain National Park (RMNP) Superintendent Randy Jones saw an opportunity to preserve the cultural resource by reusing the ranch for research purposes.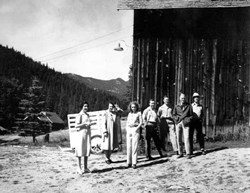 The McGraw Ranch Restoration plan became the largest historic preservation project in RMNP until that point. The buildings required extensive renovation to transform the property into a research campus. McGraw Ranch's rustic architecture and place in Estes Park tourism history placed it on the National Register of Historic Places in 1998. When renovations began in 1999, the goal was to restore the exterior and interior of the buildings to replicate ranch years of 1935-1955. The project cost $2 million and took five years to complete. The first wave of researchers moved in during June 2003.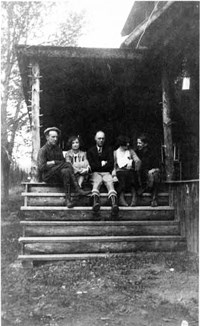 Last updated: October 26, 2017