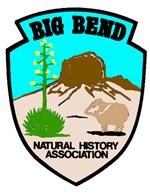 Big Bend Natural History Association
Inside each of Big Bend's five visitor centers, and at Amistad National Recreation Area, you will find a fully stocked bookstore operated in partnership with a private, non-profit organization called Big Bend Natural History Association (BBNHA). The bookstore carries a large variety of educational books, videos, park information, and high quality souvenirs to help you learn more about the park and its resources or just help you remember your trip to Big Bend.

The wonderful thing about purchasing items in our bookstores is that all of the profit from sales stays in the park and directly benefit park goals and interpretive operations.