Event
Evening Stillwater Islands Tour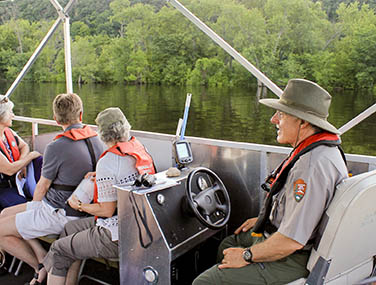 Every Tuesday Weekly from 08/21/2018 to 09/25/2018

Location: Meet at St. Croix Boom Site Historic Marker, Time: 3:30 PM to 5:30 AM Fee Information: Free with registration Contact Name: St. Croix River Visitor Center Contact Phone Number: 715-483-2275
Tour the St. Croix River near Stillwater, Minnesota, with park rangers by pontoon boat. Explore the Boom Site where logs were sorted before being sent to mills. See the Soo Line High Bridge that was constructed in the style of the Eiffel Tower. Limestone bluffs shelter eagle nests and cliff swallows as the river braids around wooded islands. Here is reason to celebrate 50 years of protection as a wild and scenic river.

Reservations are required and can be made by calling (715) 483-2275. There is a limit of one tour per person for the summer and seating is limited to 12 per tour.
Tours are currently full. Thank you for a wonderful season.

Plan to arrive 15 minutes prior to the tour at the Boom Site Historical Marker, located on Highway 95. Children must weight at least 50 pounds and be accompanied by an adult. Life jackets are provided. Be prepared to be on the water with appropriate clothes, sunscreen, and drinking water. Route is dependent on water levels. Tours are cancelled in severe weather.