Event
Full Solar Eclipse: In the "Path of Totality"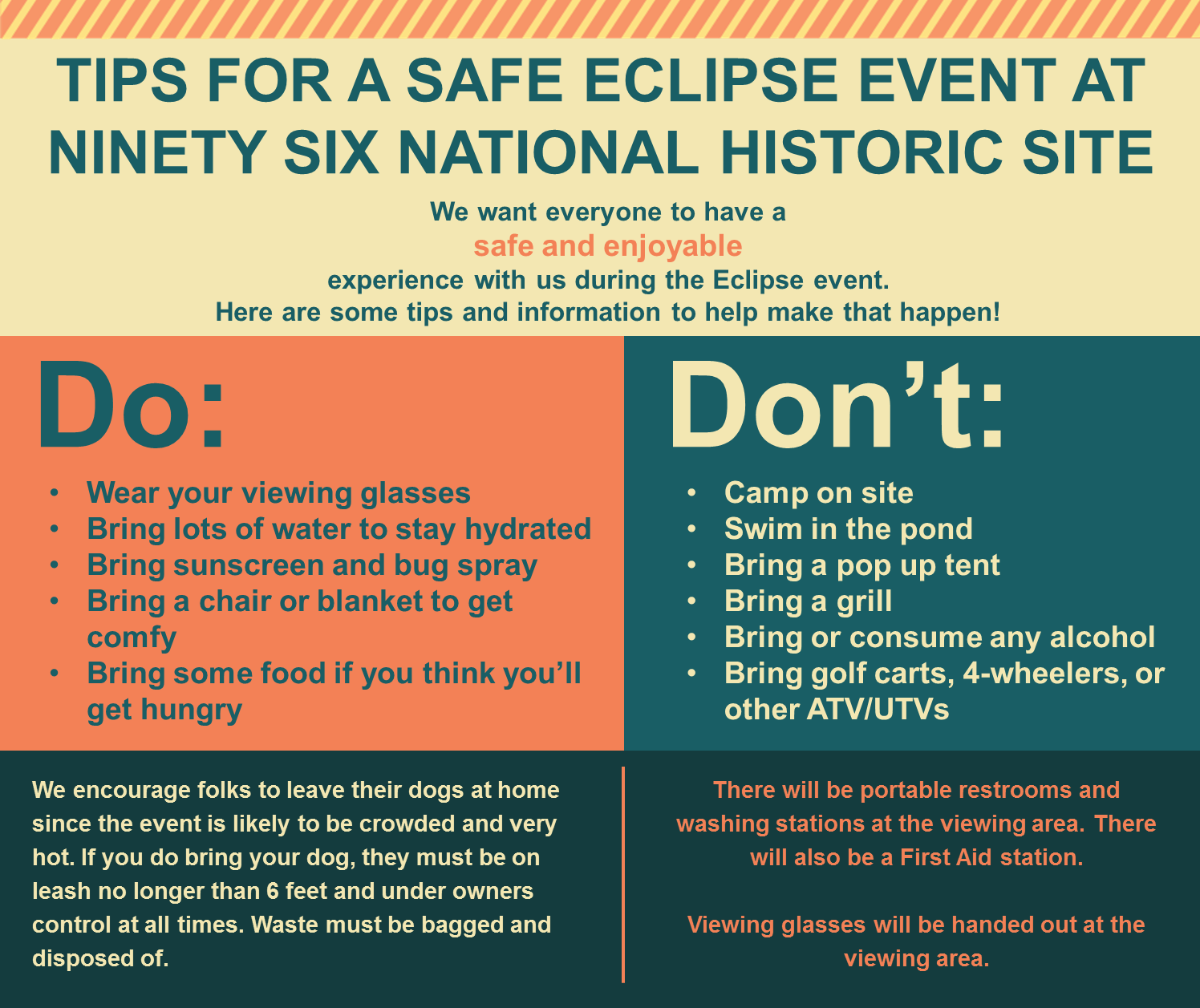 08/21/2017

Location: Star Fort Pond, | Map Time: 12:00 PM to 4:00 PM Fee Information: FREE! Contact Name: Adrian Stewart Contact Email: E-Mail Us Contact Phone Number: 864-543-4068
On August 21, 2017, Ninety Six National Historical Site (NHS) will host a total solar eclipse viewing program from 12:00 pm – 4:00 pm at the Star Fort Pond on Kinard Road off Highway 246. Ninety Six NHS is in "the path of totality", meaning we will have one of the best views of the eclipse on the east coast!

Join us at at Star Fort Pond for a viewing of this rare event. The eclipse will start at 1:10 PM reaching totality between 2:40 and 2:45 PM and lasting for about 2 1/2 minutes. 

The Visitor Center is typically closed on Monday but due to this special ocassion, it will be open from 10 am to 1 pm.

All eclipse activities and the viewing area will be at the Star Fort Pond (see direction below). We will have a variety of family-friendly eclipse and solar system activities for the whole family, including first-come, first-served viewing glasses.

Make your FREE reservation by calling 864-543-4068 or by emailing us. This reservation will help us plan for our event and make sure we have plenty of supplies for all of our activities. UPDATE: WE ARE NO LONGER ABLE TO ACCEPT ANY MORE RESERVATIONS.

Directions to the Star Fort Pond:

Take Highway 246 south from the Town of Ninety Six. Go about 2 miles and turn to the right onto State Road 27 or Kinard Road. Go about 1/4 of a mile and the lake will be on the right.

Parking

Parking at the Pond will be primarily grass parking, with the gravel parking lot reserved for handicap parking. Please follow all posted signage and staff directions as you arrive.

Other Information:

Telescopes will be permitted, however to safely view a solar eclipse through a telescope, you must have a special filter, similar to if you were using a camera to view the eclipse. We advise anyone bringing telescopes to ensure they have this filter. The park is not responsible for the telescopes, therefore, if other visitors approach the telescope to view the eclipse it is up to the owner's discretion. The park is not responsible for any damage to the telescope or other equipment.

The park has reached its capacity and we are no longer taking registration information.

TIPS FOR A SAFE ECLIPSE EVENT:

We want everyone to have a safe and enjoyable experience with us during the Eclipse event. Here are some tips and information to help make that happen!
 
Do:
Wear your viewing glasses
Bring lots of water to stay hydrated
Bring sunscreen and bug spray
Bring a chair or blanket to get comfy
Bring some food if you think you'll get hungry
 
Don't:
Camp on site
Swim in the pond
Bring a pop up tent
Bring a grill
Bring or consume any alcohol
Bring golf carts, 4-wheelers, or other ATV/UTVs
 
We encourage folks to leave their dogs at home since the event is likely to be crowded and very hot. If you do bring your dog, they must be on leash no longer than 6 feet and under owners control at all times. Waste must be bagged and disposed of.

There will be portable restrooms and washing stations at the viewing area. There will also be a First Aid station. Viewing glasses will be handed out at the viewing area.