Places To Go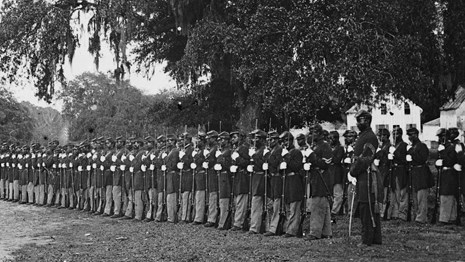 Camp Saxton
Black soldiers and civilians heard the Emancipation Proclamation at Camp Saxton on January 1, 1863.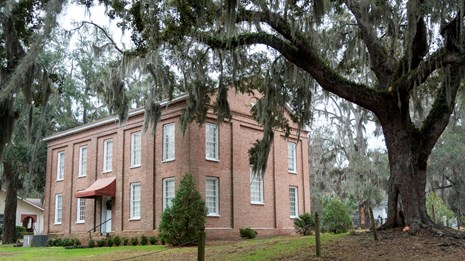 Brick Baptist Church
Students met in Brick Baptist beginning in 1862, and today it is an active church congregation.
In addition to the four locations that make up Reconstruction Era National Historical Park, there are a number of places in the region that may be of interest to visitors in the South Carolina low country interested in learning about this important time in our nation's history.

Beaufort History Museum - This museum gives visitors a chance to learn about the important role that Beaufort has played in American history. The Beaufort History Museum is located in the historic Arsenal, which was built in 1852. During Reconstruction it was home to militia units including African American troops. The Arsenal was the first voting station in Beaufort County during Reconstruction and was also used by the Freedman Bureau for storage and supplies for the formerly enslaved African Americans. The Beaufort History Museum is located at 713 Craven Street, Beaufort, SC 29902, which is across the street from the park visitor center.

Mitchelville - Perhaps the first freedmen's town established during the Civil War, Mitchelville was laid out by the Union army on nearby Hilton Head Island to accommodate freed slaves. The town had a population of about 1,500 in 1862. Civil War photographs and illustrations of the town show a wide variety of building types and activities. Parts of Mitchelville are preserved as a public park and interpreted for visitors.

Fort Howell - The Fort Howell site is an earthen fort constructed next to the Mitchelville settlement to protect freed slaves from recapture by Confederate troops. The fort was manned primarily by African American soldiers. Fort Howell was listed on the National Register of Historic Places in 2011 and today is a public park with interpretive signage (160 Beach City Rd, Hilton Head Island, SC 29926).

There are two other units of the National Park System nearby - Fort Sumter National Monument in Charleston, South Carolina, and Fort Pulaski National Monument in Savannah, Georgia. Both of these are approximately a 90 minute drive from Beaufort.
Last updated: August 19, 2020