Projects Planned at Pullman National Monument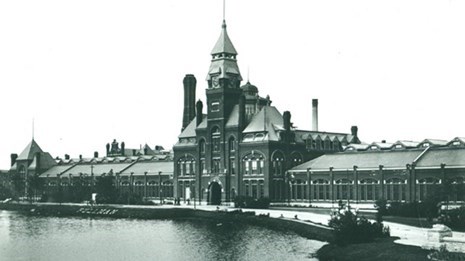 The NPS invites the public to comment on the development of the visitor center and its potential impacts on cultural resource. The public comment period is open until December 4, 2018.

After standing for more than a century as an icon in the Pullman community, the historic Administration Clock Tower Building was seriously damaged by fire in 1998. The State of Illinois reconstructed the building in 2005 and transferred it to the National Park Service (NPS) in 2015 to serve as the anchor for Pullman National Monument. The NPS is developing and will manage the Clock Tower Administration Building in cooperation with the Illinois Department of Natural Resources (IDNR), the owner and operator of the adjacent Pullman State Historic Site.
This phased project once again allows visitors access to learn about the intertwining stories of industrial innovation and visionary urban planning that started in the 1880's. They will be able to explore labor relations, with an emphasis on two key time frames – the 1894 Pullman Labor Strike and the 1937 Brotherhood of Sleeping Car Porters, the first African American labor union.
Projects Planned at Pullman National Monument Infographic
---
Project Update:
Last updated: November 21, 2018