History & Culture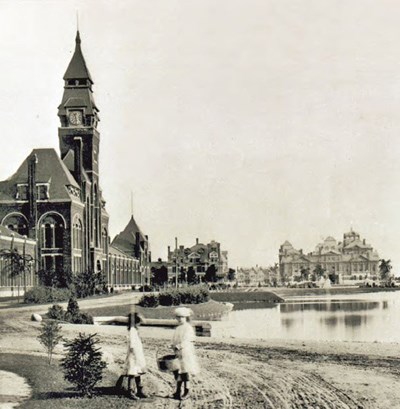 Pullman National Monument, also known as The Pullman District and Pullman Historic District, is located in Chicago, Illinois. It was the first model, planned industrial community in the United States. The district is significant for its historical origins in the Pullman Company, one of the most famous company towns in the United States, and scene of the violent 1894 Pullman strike.
Located in what is now the Pullman community area of Chicago, the district includes the Pullman factory and also the Hotel Florence, named after George Pullman's daughter. Also within the district is the A. Philip Randolph Pullman Porter Museum, named for the prominent leader A. Philip Randolph, which recognizes and explores African American labor history.
President Barack Obama designated Pullman as a National Monument on February 19, 2015. It became the first unit of the National Park Service in Chicago.
Administration Buildings

The manufacturing center of Pullman, the Administration and Factory Complex were unusually ornate industrial buildings. They were designed to sit in a park-like setting, overlooking the artificial Lake Vista, which was a cooling reservoir for the Corliss steam engine. The buildings, several hundred feet long, were well-lit and ventilated. The main facade, mirrored in the lake, faced the Illinois Central tracks, and thus was one of the first buildings a visitor would see.

Hotel Florence

Named for Pullman's daughter, the hotel opened on November 1, 1881. Intended to showcase the town to visitors, the hotel featured fifty rooms and the only bar in the community. Built at a cost of $130,000, it grew to 23,000 square feet (2,100 m2) after an addition was constructed in 1914. A suite was kept for Pullman on the second floor for when he visited the factory. Each floor presented a different class of service, with the most opulent rooms on the second floor and more modest accommodations on the fourth.

A. Philip Randolph Pullman Porter Museum

Unionization of African American workers began in 1925, when the Brotherhood of Sleeping Car Porters was founded by A. Philip Randolph in New York City. Forty-four percent of the Pullman workforce was porters, making Pullman the nation's largest employer of African Americans. A landmark agreement was reached between the two parties in 1937, becoming the first major labor agreement between a company and an African American union. The NAACP lauded the contract and recognized it as an important step in African American Civil Rights.



Last updated: June 7, 2018