History & Culture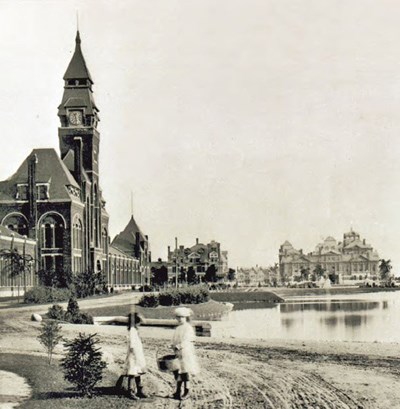 Pullman National Historical Park (originally Pullman National Monument) was designated by President Barack Obama on February 19, 2015, making it the first National Park Service unit in Chicago. The park tells the story of one of the first planned industrial communities in the United States, the sleeping car magnate who helped create it, and the workers who lived there. The district is significant for its influence on urban planning and design, as well as its role in American labor history, including the 1894 Pullman Strike and Boycott.
Located in what is now the Pullman neighborhood of Chicago, the historic district includes the site of the former Pullman Palace Car Works shops and administration building, the Hotel Florence (named after George Pullman's eldest child), Arcade Park. and the Greenstone Church (currently the Greenstone United Methodist Church). Also within the district is the A. Philip Randolph Pullman Porter Museum, named for the prominent leader A. Philip Randolph, which recognizes and explores African American labor history.
The National Park Service works with many partners to administer the site, and most homes are private residences.
Last updated: January 5, 2023