Operating Hours & Seasons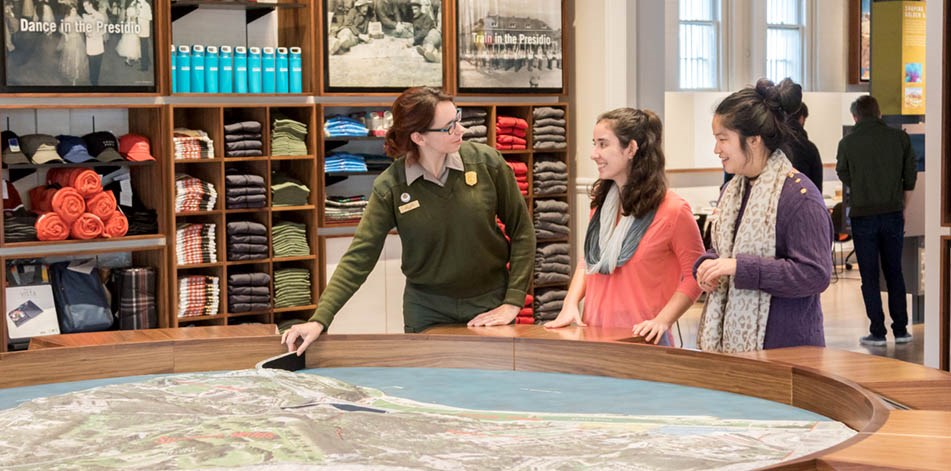 Presidio Officers' Club
Located at 50 Moraga Avenue, at Arguello Boulevard on the Presidio's Main Post.
Hours of Operation
Open from 10 am to 6 pm, Closed Monday to Thursday
Phone
Exhibits
Extensive multimedia exhibits on the Presidio's history and communities. Ongoing activities and events.
---


Fort Point National Historic Site
Located under the south anchorage of the Golden Gate Bridge at the west end of Marine Drive.
Hours of Operation
Thursday through Monday, 10:00 am to 5:00 pm (Summer Hours)

The days that Fort Point is open varies throughout the year. Fall through Spring the fort is generally open Friday through Sunday. The timing of the shift in days is not consistent from year to year, but generally occurs in October and May. During the Summer season (begins July 9, 2017) the fort is open Thursday through Monday. Hours are 10 am to 5 pm on open days. Closed on Thanksgiving, Christmas, and New Year's Day. Visit our web site for current open days.
Phone
(415) 556-1693
Exhibits
There are various exhibits in the fort, where the Fort Point Bookstore is also located. On the first floor there is theater with several video presentations and an interactive video kiosk with videos about the history and architecture of the fort. There is also an exhibit about the fort's construction and Civil War soldier responsibilities. On the second floor are furnished rooms and exhibits on the Fort Point Lighthouse and about the lives of African-American soldiers and their struggle for acceptance. On the third floor there is an exhibit about the construction of the Golden Gate Bridge. Visit the website for more information.
---



Warming Hut Bookstore & Cafe
Located at 983 Marine Drive - accessed from Mason Street at the west end of Crissy Field.
Hours of Operation
Daily 9am-5pm
Phone
(415) 561-3040


Last updated: July 20, 2017