History of the Presidio Officers' Club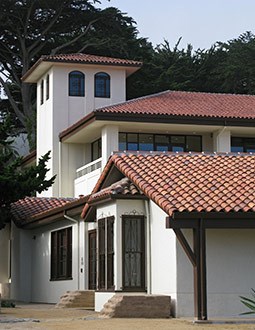 Over the years, the building that is now the Presidio Officers' Club has housed living quarters for Spanish and Mexican soldiers, barracks for the U.S. Army, a mess room and kitchen, laundresses' quarters, post headquarters, an assembly hall, a ballroom, and a restaurant and bar, and now a museum.
The front wings of the Presidio Officers' Club incorporate portions of the Spanish presidio's adobe walls that may date as far back as 1776. When U.S. troops occupied the post in 1847, they rebuilt the roof of the Spanish-Mexican-era adobe. In 1884-1885 a projecting central pavilion-like "assembly room" of wood construction was added to the structure. The next proposals to "restore" the building appear to have been formulated in the early 1930s, when a prototypical work relief-type project was instigated under the planning and supervision of Quartermaster Capt. Barney L. Meeden.
The form and significance of today's Officers' Club pertains most directly to this remodeling and to the 1930s-era development of the Main Post. The 1933-1934 remodels removed some additions and transformed the building into a "Spanish Colonial Revival" edifice. Works Progress Administration (WPA) funds became available for additional improvements in 1936 and 1939, though none of these improvements seems to have directly involved the old adobe walls fronting the structure.
The building today stands as a complex series of interconnected adobe, concrete, wood-frame, and steel frame partitions. The appearance of the existing building, with its rustic Spanish-tile gable roofs, heavy rough timber lintels and beams, and decorative iron work, was determined in the remodel by Captain Meeden's perceptions of the possible appearance of the Spanish-era adobe building. In the course of the 1930s construction, substantial remnants of early adobe walls were enclosed in metal lath and plaster and still form much of the front portion of the building. A massive 1972 rear addition that towers over the historic building considerably compromised the integrity of the historic building as a whole.
The Presidio Trust rehabilitated the building from 2011 to 2014, removing some of the later additions and bringing it up to modern codes. The rehabilitation fully repaired the historic front portion as well as the large rear addition, added by the U.S. Army in 1972. A new structure connects the two, enabling the building to function as one seamless space. A new basement was also added for mechanical, electrical, and storage. The Officers' Club now houses the Presidio Heritage Center exhibits, a restaurant, and event facilities.
Last updated: October 8, 2014