Yellow-rumped Warbler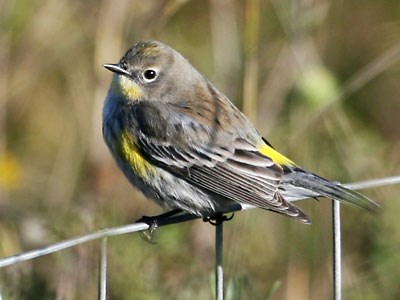 Natural History: The Yellow-rumped Warbler generally feeds on insects and on berries some, particularly in the winter. It breeds in to the north of the Presidio.
General Distribution: In the Presidio, this bird is found in all environments.
Frequency: This is the most common warbler at the Presidio. It is common to abundant in the spring, fall, and winter seasons.
Identifying Characteristics: This bird has a yellow rump, yellow patch on sides and a yellow crown patch. The throat is yellow except in fall. The sides and head tend to be a dark or slate gray and the wings sides are striped.
Last updated: February 28, 2015