Yellow-eyed Salamander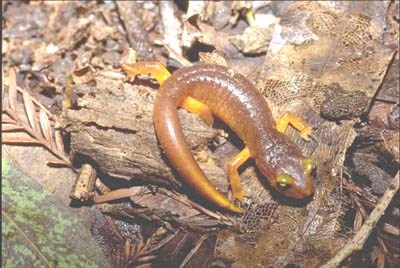 Natural History: This amphibian is primarily active at night during wet periods. It is highly dependent on precipitation. It tends to seek moist but not overly saturated soils.
General Distribution: This salamander is typically found in forested areas. A specimen has been recently identified near Mountain Lake.
Frequency: This animal is uncommon within the Presidio.
Identifying Characteristics: This species is distinguished by its orange belly and yellow eye patch. It has smooth skin, a swollen tail, and is a yellow-orange at the base of its limbs.
Last updated: February 28, 2015