Wilson's Warbler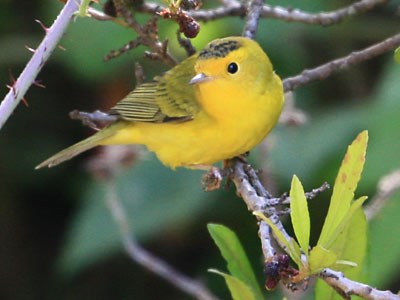 Natural History: The Wilson's Warbler feeds primarily on insects, much like the Orange-crowned Warbler. It takes cover in the low canopy layers or forests or shrubs. It nests near water or wet areas on ground or slightly above ground where it breeds from late April to August.
General Distribution: In the Presidio, this species can be found in coastal scrub areas, forested areas, and around ornamentals. It has the potential to breed within the Presidio.
Frequency: This species is common in the spring, summer, and fall and is uncommon during the winter.
Identifying Characteristics: Wilson's Warbler is olive-green above, similar to the Orange-crowned Warbler, and a yellow color below. A yellow stripe can be noted across the eye. The males of the species have a black cap.
Last updated: February 28, 2015